Inside this article
Managing an online store isn't always an easy task, but thankfully there are tools that allow you to automate dozens of tasks related to eCommerce management, communication with customers, publishing content and analyzing marketing strategies, among other activities.
If you'd like to learn which marketing tools are the most useful, take a look at our list!
How to choose the best marketing tool for your eCommerce business
When we talk about eCommerce marketing tools, we're referring to a wide array of features that can automate processes, provide analytical information and help with the creation of content and the management of social media channels.
However, depending on the size of your business, the tools you're already using and the activities that you've already covered and streamlined, you'll need to choose one specific kind of tool or another.
Plus, not all marketing tools are made with the same objectives in mind, or for the same kind of client. If your online store has special characteristics that set it apart from others or, if it's already an established business with a considerable audience, you may want to look into more complex and advanced marketing tools.
Marketing tools for online stores: Social media marketing
1. Hootsuite
Hootsuite is a platform to manage social networks like Twitter, Facebook, Instagram, LinkedIn, Pinterest and YouTube.
Hootsuite can be the ideal marketing tool for online stores looking to build trust with their customers and strengthen relationships through social media platforms, since it centralizes timelines, replies and shares, and helps schedule publications.
Pricing
Hootsuite is available through four subscription plans:
Professional plan: €39/month
Team plan: €109/month
Business plan: €669/month
Enterprise plan: custom pricing
The Team and Business plans are better suited for large online stores.
2. Buffer
Buffer is a marketing tool used to manage different accounts on social networks (Twitter, Facebook, Instagram, Pinterest and LinkedIn), schedule publications and analyze some of the results of your social marketing campaigns, like the number of clicks, retweets, likes, favorites, mentions and potential views each publication has.
Pricing
Buffer is available through four different plans:
Free plan: $0
Essentials plan: $6/month per social channel
Team plan: $12/month per social channel
Agency plan: $120/month for 10 social channels
The Team and Agency plans are a better fit for eCommerce businesses dealing with a considerable social media presence. 
3. Meet Edgar
Meet Edgar is the leading social media management tool for small businesses and entrepreneurs. Meet Edgar provides an effective way to schedule and organize content to automate posting to different platforms: Facebook (pages and groups), Instagram, Twitter, Pinterest and LinkedIn accounts (including company pages).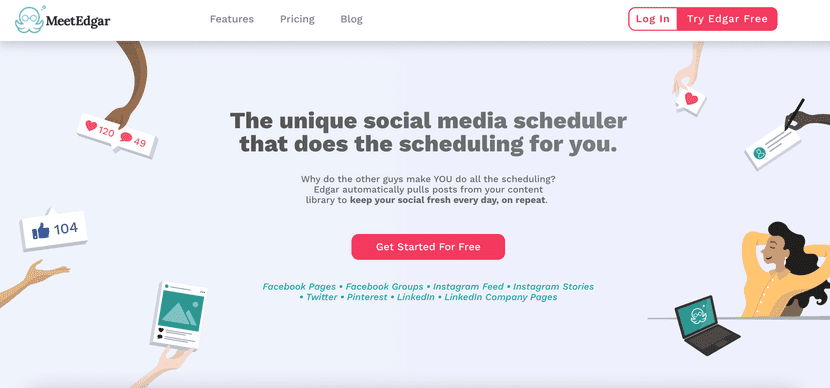 Pricing
Meet Edgar is available through two plans:
Eddie plan: $29.99/month
Edgar plan: $49.99/month
If you're an online store with a focus on social media actions, the Edgar plan is the best option from Meet Edgar.
4. HubSpot
HubSpot is a tool dedicated to inbound marketing, sales, and customer service.
When it comes to marketing, HubSpot can be used to automate and personalize engagement across channels, orchestrate efficient campaigns, optimize campaign conversion, build custom reports and manage your teams and brands.
Pricing
HubSpot can be used through three different subscription plans:
Starter: Starts at €41/month
Professional: Starts at €740/month
Enterprise: Starts at €2,944/month
The Professional plan can be a good starting point for eCommerce businesses with a focus on providing the best customer experience.
Marketing tools for online stores: Content production and management
5. Canva
Canva is a platform for visual content creation and editing of graphics, presentations, posters, documents and other content for social networks.
Pricing
Canva is available through three different subscription plans:
Free plan: €0
Pro plan: €11.99/month
Enterprise plan: €27.00/month
Canva's Pro plan can be used in conjunction with other design tools, such as an image bank, brand repository and social media publication scheduler.
6. Wistia
Wistia is a platform for publishing and managing online videos. These videos can be included in your online store to help you with your marketing tasks.
One of the benefits of using Wistia is that you own and control the videos, in comparison with a platform like YouTube, which can take down your video anytime.
It also comes with analytics and enables you to add subtitles, transcriptions, etc.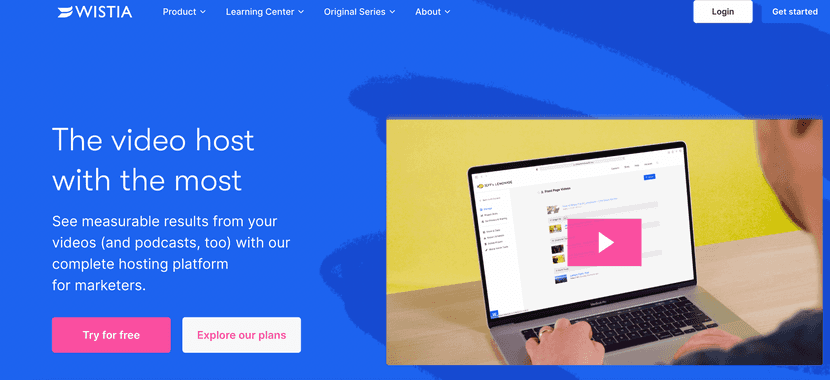 Pricing
Wistia is available through three different subscription plans:
Free plan: $0/month
Pro plan: $99/month
Advanced plan: custom pricing
The Pro plan from Wistia is one of the top choices for businesses focused on video content.
7. Vidyard
Vidyard is a marketing tool for creating, recording, hosting, and sending videos. These videos can be used to improve the relationship between your brand and customers, thanks to detailed data about the users who visit and view the videos. This platform can be connected to different ERPs.
Pricing
Vidyard can be used through four different subscription plans:
Free: $0
Pro: $29/month
Teams: $300/month
Business: $1,250/month
Vidyard's Teams version includes full video analytics and the possibility to create custom branding.
8. Google Trends
Google Trends is a tool used to analyze the popularity and trends of a keyword in a specific region or language in a certain period of time. Google Trends shows this information in a simple and visual way through graphs.
Google Trends is a free marketing tool available to all users with a Gmail account.
9. SEMrush
SEMrush is a useful marketing tool for keyword research. With SEMrush you can get information about the search volume of a keyword, the price-per-click, and other data, like a keyword cannibalization report, that will help you create more beneficial content for your SEO strategy.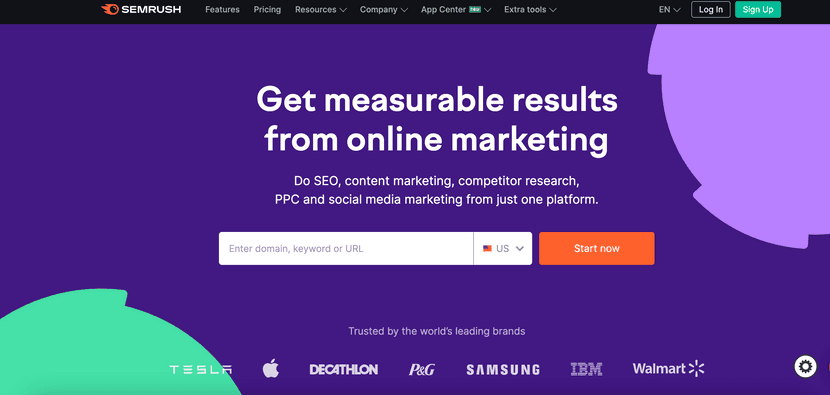 Pricing
SEMrush can be used through three different subscription plans:
Pro: $119.95/month
Guru: $229.95/month
Business: $449.95/month
10. Ahrefs
Ahrefs is a marketing tool for website and keyword analysis and SEO strategy.
Ahrefs provides information about your website and third-party sites, allowing you to check the data in other markets and languages. You can also use this tool to see the top-ranking pages for a specific keyword.
Pricing
Ahrefs can be used by having a subscription to one of these plans:
Lite plan: €89/month
Standard plan: €179/month
Advanced plan: €369/month
Enterprise plan: €899/month
The Standard plan is one of the best options Ahrefs provides, at least for the launch of your digital marketing strategy.
11. BuzzSumo
BuzzSumo is a marketing tool used to create results-driven content. This cloud-based platform helps you discover popular content based on keywords, trends and FAQs.
Pricing
BuzzSumo is available through four different subscription plans:
Free: Free
Pro: $99/month
Plus: $179/month
Large: $299/month
BuzzSumo's Pro plan comes with the essential functionalities for any online store: unlimited monthly searches, 5 users, alerts to track media mentions (brand names, competitors, keywords, articles and backlinks, etc.), domain reports, content analysis reports and a content idea generator, among other features.
12. Yoast
Yoast SEO is a WordPress plugin for SEO optimization (keywords, readability, etc.). Yoast is only available for WooCommerce and WordPress users. Yoast is an especially useful tool for those marketers that aren't experts on SEO.
As Yoast states on its website: "We're the experts, so our users don't need to be."
Pricing
Yoast can be used through three different systems:
Yoast SEO free plugin
Yoast SEO premium plugin: €8.25/month (billed annually)
Plugin subscription: €22/month
13. Unbounce
With Unbounce, you can create landing pages with great conversion potential, since you can ask the visitor for their contact information in exchange for valuable content.
Unbounce allows you to create these landing pages through a "drag & drop" editor, without the need for a developer.
Pricing for landing page features
You can create landing pages using Unbounce by paying for a subscription to one of these plans: 
Launch: $90/month
Optimize: $135/month
Accelerate: $225/month
Unbounce's Optimize plan is the go-to option for online stores that want to create effective landing pages.
14. Exploding Topics
Exploding Topics is a marketing tool that helps you find trends before they become mainstream.
This platform analyzes millions of searches, conversations and mentions on the internet and, thanks to its algorithm, identifies industries, products and categories before they take off. Thus, your products and content will stand out from your competitors, increasing your sales and visibility.
Pricing
Exploding Topics can be used through three different subscription plans:
Free version: Free
Entrepreneur: $97/month
Investor: $197/month
Marketing tools for online stores: Analysis
15. Google Analytics
Google Analytics is a tool for the collection of data about your website, traffic, visits, etc.
It also includes advanced features such as visitor segmentation, activity tracking reports, sales performance, transactions, revenue and many other eCommerce-related metrics.
Pricing
Google Analytics can be used under two models:
The Standard version of Google Analytics is free
Google Analytics 360 is the paid version
16. Google Search Console
Google Search Console is a free tool that can be used by all website owners to check how their website works at a content level. You can use Search Console to keep track of your webpages' indexing and optimize the visibility of your online store.
17. GTmetrix
GTmetrix is a tool used to analyze the speed and performance of a webpage. It provides you with reports and advice to correct and improve these important features of your online store.
Pricing
You can use GTmetrix in multiple versions, depending on the size of your business and the needs you have:
Solo: $13/month
Starter: $25/month
Growth: $50/month
Champion: $75/month
Team: $200/month
Enterprise: $530/month
Custom: custom pricing
18. Crazy Egg
Crazy Egg is an analytics platform that tracks and optimizes users' behavior to improve UX, increase conversion rates and promote sales.
Thanks to its heat map, displacement map and Overlay and Confetti functionalities, you'll be able to check the operation of your website and better understand the interests of your customers to improve their shopping experience.
Pricing
Crazy Egg offers different functionalities depending on the business plan you select. There are 5 different plans to choose from:
Basic: $29/month
Standard: $49/month
Plus: $99/month
Pro: $249/month
Enterprise: custom pricing
Marketing tools for eCommerce email marketing
19. Sendinblue
Sendinblue is a cloud marketing tool that allows you to create automated email marketing strategies, landing pages, Facebook ads, etc.
Pricing
Sending is available through four different subscription plans:
Free: $0/month
Lite: $25/month
Premium: $65/month
Enterprise: custom pricing
Sendinblue's Premium plan will be enough for most online stores. However, if you need special functionalities or your business size requires a higher volume of emails to be sent, you can come to an agreement with Sendinblue to use their Enterprise plan.
20. Everlytic
Everlytic is a platform used to automate email and SMS messages for marketing purposes. Among other things, you can also create integrated campaigns, landing pages and forms.
Everlytic doesn't provide any pricing information nor a free plan. 
Marketing tool for online advertising
21. Google Ads
Google Ads, formerly known as Google AdWords, is a digital marketing tool for managing online ads. Google Ads can be used as part of an eCommerce advertising strategy.
Pricing
Google Ads works through a bidding model, which means that you'll be paying only for the results you get from the ads. 
Marketing tools for online store management and automation
22. Outvio
Although Outvio isn't exactly a marketing automation tool for eCommerce, you can use it to customize different elements of your communication with customers through your branding. Use tracking emails, the portal and your return page as an opportunity to boost sales and reinforce brand image.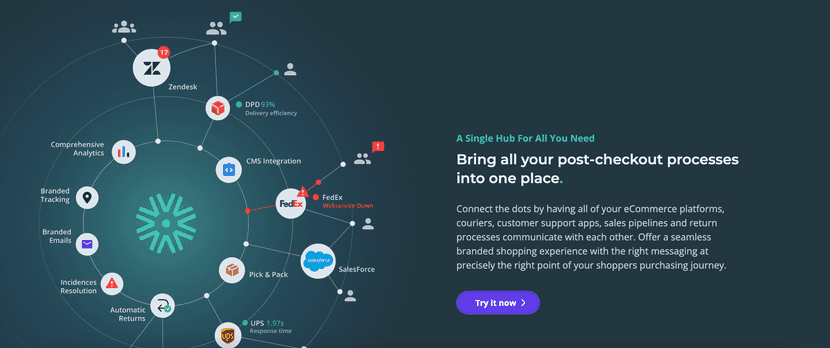 Pricing
Outvio is available through 5 different subscription plans:
Starter: €15/month
Launch: €29/month
Grow: €99/month
Conquer: €199/month
Enterprise: Custom pricing
For established online stores, the Grow and Conquer plans offer the best features for their size and sales volume.
23. Salesforce
Salesforce is a software system used to manage the relationship between brand and customers, and automate marketing tasks, analysis, and application development.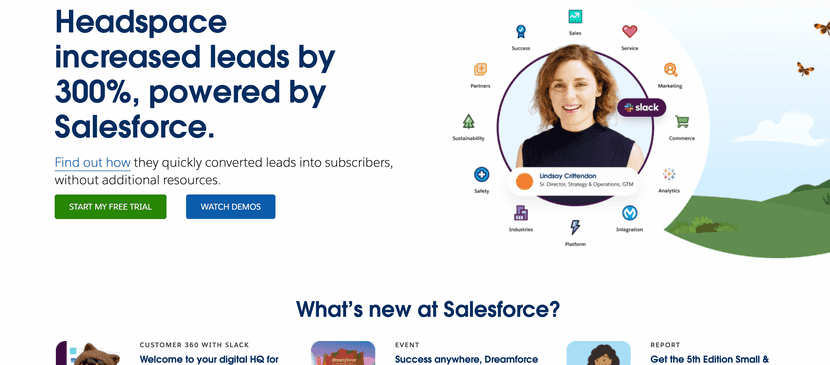 Salesforce Marketing features include the generation, qualification and management of leads and email marketing and personalization.
Pricing
Salesforce's Marketing Cloud Account Engagement can be used by subscribing to one of the following plans:
€1,250/month (up to 10,000 contacts)
€2,500/month (up to 10,000 contacts)
€4,000/month (up to 10,000 contacts)
€15,000/month (up to 75,000 contacts)
Conclusions
This is a compilation of what we consider to be the best marketing tools of 2023. With Outvio, you can take your business to the next level by optimizing and automating different areas of your business related to marketing, including email marketing, social networks, SEO and ads.