Inside this article
Thanks to these marketing tools, you'll be able to automate dozens of tasks related to eCommerce management, communication with customers, and cross-selling and upselling strategies, among other benefits.
If you want to know which marketing tools are the most useful, take a look at our list!
24 marketing tools for online stores
1. HubSpot
HubSpot is a tool dedicated to inbound marketing, sales, and customer service.
With HubSpot, you can manage your communication with customers, content on social networks, web analysis, or SEO, among other tasks.
2. Hootsuite
Hootsuite is a platform to manage social networks: Twitter, Facebook, Instagram, LinkedIn, Pinterest, and YouTube.
Hootsuite is the ideal marketing tool for online stores looking to build trust with their customers and strengthen relationships through social media.
3. Canva
Canva is a platform for visual content creation and editing of graphics, presentations, posters, documents, and other content for social networks.
The platform is available in free and two paid versions: Canva Pro and Canva Enterprise.
4. Wistia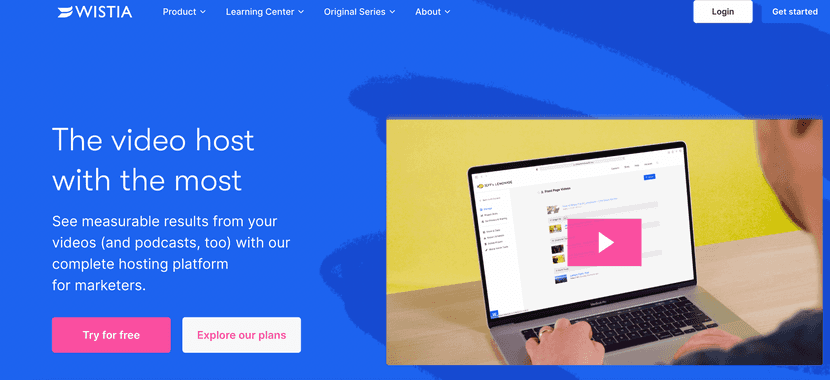 Wistia is a platform for publishing and managing online videos. These videos can be included in your online store and help you with your marketing tasks.
5. Google Analytics
Google Analytics is a tool for the collection of data about your website, traffic, visits, etc.
It also includes advanced features such as visitor segmentation, activity tracking reports, sales performance, transactions, revenue, and many other eCommerce-related metrics.
6. Google Search Console
Google Search Console is a tool to check how your website works at a content level. You can use Search Console to keep track of your webpages' indexing and optimize the visibility of your online store.
7. Google Ads
Google Ads, formerly known as Google AdWords, is a digital marketing tool for managing online ads. Google Ads works under a pay-per-click (PPC) pricing model.
8. Google Trends
Google Trends is a tool to analyze the popularity and trends of a keyword in a specific region or language. Google Trends shows this information in a simple, visual way through graphs.
9. SEMrush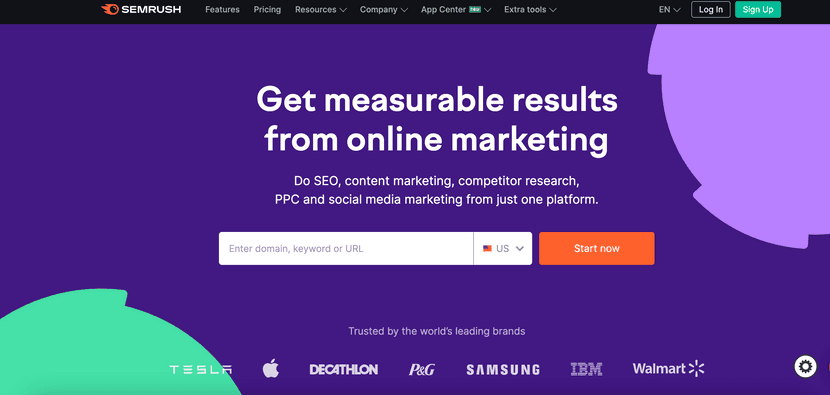 SEMrush is a useful marketing tool for keyword research. With SEMrush you can get information about the search volume of a keyword, the price-per-click, and other data that will help you create more beneficial content for your SEO strategy.
10. Ahrefs
Ahrefs is a marketing tool for website and keyword analysis and SEO strategy.
Ahrefs provides information about your website and third-party sites, allowing you to check the data in other markets and languages. You can also use this tool to see the top-ranking pages for a specific keyword.
11. Sendinblue
Sendinblue is a cloud marketing tool that allows you to create automated email marketing strategies, landing pages, Facebook ads, etc.
12. Asana
Asana is a web and mobile platform for managing tasks and teams, as well as monitoring productivity. You can keep track of individual tasks and integrate this platform with other tools to have an overview of the projects across several points.
13. GTmetrix
GTmetrix is a tool to analyze the speed and performance of a webpage. It provides you with reports & advice to correct and improve these important features of your online store.
14. Buffer
Buffer is a marketing tool to manage different accounts on social networks (Twitter, Facebook, Instagram, Pinterest, and LinkedIn) and analyze the results of your social marketing campaigns. It tracks the number of clicks, retweets, "likes", "favorites", mentions, and potential views that each publication has. Buffer also allows you to schedule posts.
15. BuzzSumo
BuzzSumo is a marketing tool used to create results-driven content. This cloud-based platform helps you discover popular content based on keywords, trends, and FAQs.
But this tool not only provides insights for you to use in the future, it also allows you to monitor your current content.
16. Yoast
Yoast SEO is a WordPress plugin for SEO optimization (keywords, readability, etc.). Yoast is only available for WooCommerce and WordPress users.
17. Meet Edgar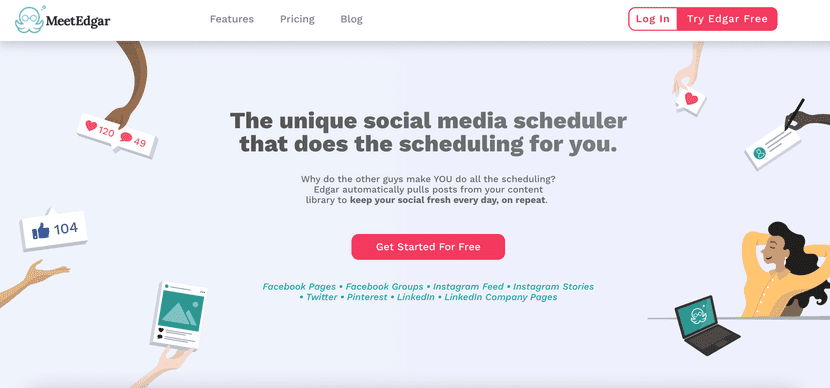 Meet Edgar is the leading social media management tool for small businesses and entrepreneurs. Meet Edgar provides an effective way to schedule and organize content to automate posting to different platforms: Facebook (pages and groups), Instagram, Twitter, Pinterest, and LinkedIn accounts (including company pages).
18. Vidyard
Vidyard is a marketing tool for creating, recording, hosting, and sending videos. These videos can be used to improve the relationship between your brand and customers, thanks to detailed data about the users who visit and view the videos. This platform can be connected to different ERPs.
19. Everlytic
Everlytic is a platform to automate email and SMS messages for marketing purposes. Among other things, you can also create integrated campaigns, landing pages, and forms.
20. Unbounce
With Unbounce, you can create landing pages with great conversion potential, since you can ask the visitor for their contact information in exchange for valuable content.
Unbounce allows you to create these landing pages through a "drag & drop" editor, without the need for a developer.
21. Salesforce
Salesforce is a software system to manage the relationship between brand and customers, automate marketing tasks, analysis, and application development.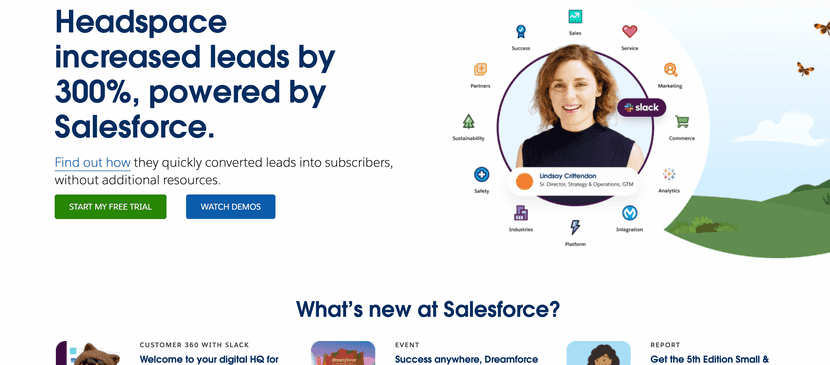 Use social networks to communicate with your buyers. You can also use its analytical tools and services to retain customers.
22. Exploding Topics
Exploding Topics is a marketing tool that helps you find trends before they become mainstream.
This platform analyzes millions of searches, conversations, and mentions on the internet and, thanks to its algorithm, identifies industries, products, and categories before they take off. Thus, your products and content will stand out from your competitors, increasing your sales and visibility.
23. Crazy Egg
Crazy Egg is an analytics platform that tracks and optimizes users' behavior to improve UX, increase conversion rates, and promote sales.
Thanks to its heat map, displacement map, and its Overlay and Confetti functionalities, you will be able to check the operation of your website and better understand the interests of your customers to improve their shopping experience.
24. Outvio
Although Outvio isn't a platform dedicated to marketing, with this tool you can customize different elements of your communication with customers through your branding. Use tracking emails, the portal, and your return page as an opportunity to boost sales and reinforce brand image.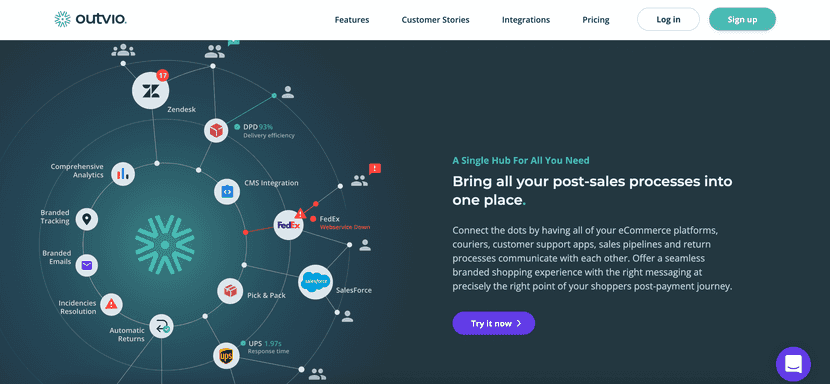 This is a compilation of what we consider to be the best marketing tools of 2022. Optimize and automate different areas of your business related to marketing: email marketing, social networks, SEO, or ads and take your business to the next level with Outvio.