Many online shops want to go viral as it is the fastest way to get their brand famous overnight and introduce their product(s) to massive new audiences. However, there is no simple formula to go viral. In fact, most of the viral marketing success stories are based on many years of long hard work or, in exceptional cases, lucky guessing what could virally grab people's attention. If you would ask these people how they achieved this viral success, they often tell you, that they did not plan it, and it feels like hitting a home run with the very first attempt.
Going viral can truly propel your shop and your brand into stardom and gain you many new customers. But we would caution you from trying to build a brand just on virality. Only very few companies ever accomplish this feat. Because if it would be easy, everyone could and would do it. A brand that is globally recognized and well-known is always the result of a sound marketing strategy and sharing the right content with the right channels.
Why does everyone desire to go viral?
Viral marketing, when doing it the right way, has lots of good sides, including increased brand awareness, credibility, and relatively low advertising costs compared to the benefits that follow. At the end of the day, one goes viral when people start to share ingenious marketing content that results in massive sales growth or media coverage. 
Already Andy Warhol foresaw the future with his influential words, "In the future, everyone will be world-famous for 15 minutes". In a certain way, one can seek attention, but your shop cannot live on 15 minutes of fame. You have to have a great product that, besides the viral content, captures new customers and converts them into evangelists who spread your message further. Virality without a great product is not going to last long. A successful viral marketing campaign will only bring you a breakthrough if your product is truly great.
If we assume that you have such an outstanding product and you are investing in the right marketing efforts, virality could be an extra boost to your business. Since we know that it is hard to plan it, we want to share a few examples with you that might inspire you. 
In this article, we look into some of the most original (but subjectively selected by the author of the article) viral marketing examples. We examine the marketing strategies used by each brand, reflect on the creation of viral content and give tips.  
1. Purple came up with a witty idea to prove that their mattresses are the BEST of the best
Purple wrote the history with a series of videos that showed its audience explicitly the difference of their mattresses compared to the classical memory foam mattresses. This is also the reason why they chose video as their lead marketing strategy.
The video that skyrocketed the brand's awareness is almost 4 minutes long and includes the raw egg test executed by the bed expert Goldilocks (yes, it was carried out by the charming character from the fairy tale with three bears). To date, this video alone has around 200 million views on YouTube (Purple is well-known for producing witty and popular video content).
Behind the Purple mattresses are two inventive brothers Tony and Terry Pearce. In 2015 they founded their own company and started to develop mattresses partially made from hyper-elastic polymer. It was a sensation in the industry as its unique material made a real difference (the mattress was soft yet firm at the same time). However, having a great product alone was not enough. Purple knew it and used video marketing as its tool to make these mattresses go viral.
Why did the "raw egg test" video go viral?
It went viral because Purple showed something that had not been seen before, meaning their content was heavily original and it caught the audience's attention immediately. In short, the Purple mattress proved to be so good that it passed the raw egg test (4 eggs were affixed to the 150kg heavy glass panel, and it was dropped onto the mattress, leaving all the eggs whole and intact, whereas the other mattresses failed the test).
The test with the raw eggs raised lots of curiosity, and people wanted to see with their own eyes and experience whether what was shown in the video was true. One can find in abundance user-generated material online inspired by the original video.
It was not only the message of the video but also the way how it was conveyed to the audience that made it well stand out. Purple had used humor, fantasy, and technology-based knowledge to engage the viewers. People who maybe were not even looking to buy a new mattress simply shared the content because of its originality, thus triggering a viral chain reaction.  
Tips: Know your product and bring out the originality of it. Show the world how and why is your product different from all the rest on the market, and make your brand come alive in the consciousness of the people. The best way to reach people's hearts and get stuck in their minds is through the creation of emotional content. In this case, video as a medium is the best option. 
2. Beardbrand shared their personal story via content marketing and attracted audiences in a natural way
Beardbrand is a perfect example of the powerful content marketing and the result this strategy can bring when delivered wisely. 
The company was founded in 2012 by Eric Bandholz (CEO), Lindsey Reinders, and Jeremy McGee. Eric Bandholz, who had grown out his beard by that time and had received lots of positive but also skeptical comments about it, came up with the idea to unite all the guys with a beard (the so-called Urban Beardsmen, coined by Bandholz) through his online shop and platform Beardbrand. Having a beard had become suddenly very trendy, and Bandholz used the moment to start his own business, providing all kinds of educational material and products related to the Urban Beardsmen lifestyle.
Beardbrand started creating content regularly on their blog, Tumblr page, and YouTube channel. They gave useful tips on beard grooming, skincare, recommended suitable products aside, and addressed all the other possibly interesting topics for men.
Why did Beardbrand's content attract massive attention?
The brand's leading figure Eric Bandholz has a charismatic nature and fits perfectly in the position to promote a stylish lifestyle for men with a beard. He had discovered the hole in the market, and that gave a boost to the sales straightaway. After being presented in 2013 as a "beard expert" in The New York Times article, Beardbrand started to increase rapidly. Today they have around 1,7 million subscribers on YouTube (2021).
The brand got famous because Eric Bandholz understood his target audience and its needs very well. Beardbrand is not just about beard grooming, it represents a much wider range of topics of the Urban Beardsmen. Their products are especially popular because of the creative content they have produced. Their blog post topics vary from hip beard styles to the literature and hobbies they recommend to men.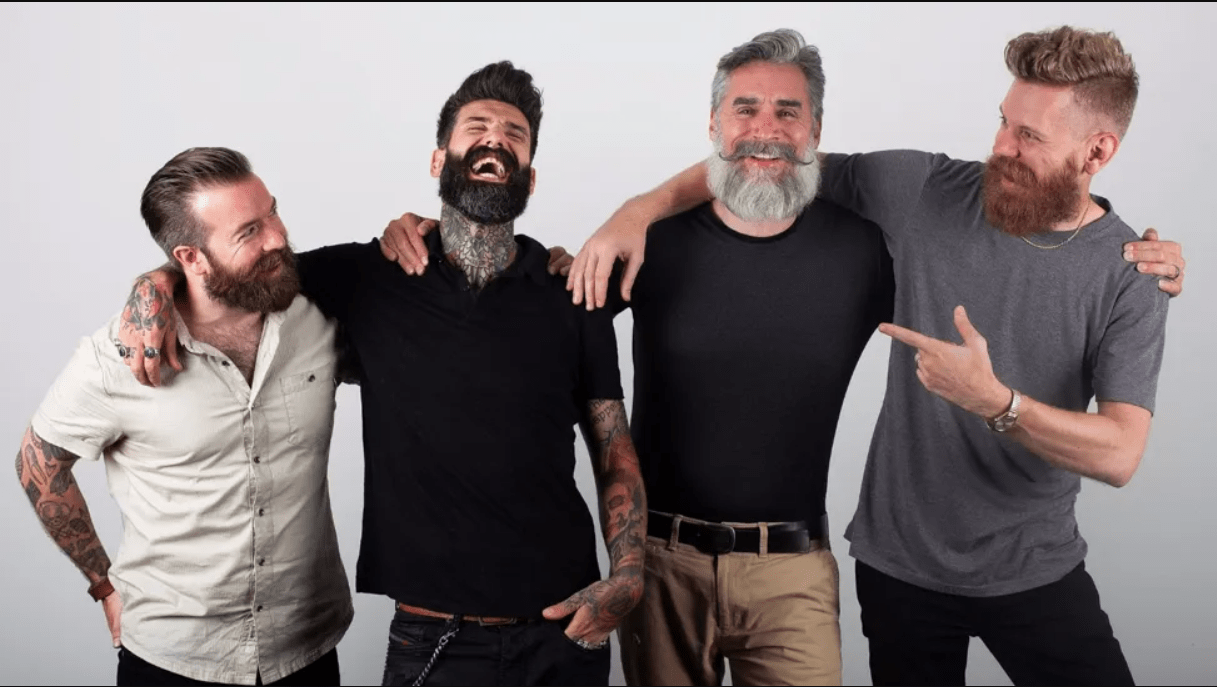 Tips: Define your target audience and get to know its pain points. Educate your audience through aggressive content creation (offer them the knowledge they are looking for) and use it for growing your business. Content that attracts people is a powerful tool as even if not all of your followers turn out to be immediate buyers, chances are high that after some time they will convert into buyers.
3. Dove convinced women of their natural beauty + Cladwell took the opportunity to create its own viral content inspired by Dove
Dove is a well-known brand from the 1950s and therefore needs no introduction. Their "Real Beauty Sketches" video (being a part of a "Real Beauty" campaign) from 2013 was a real eye-opener that appealed to raw emotion. It is one of the most viral marketing videos of all time, having been viewed and shared by millions of people (especially women) around the world. The advantage of a well-established brand like Dove is the existence of enough financial resources that allow going beyond the moon (hiring the right but expensive professionals) in fulfilling its goals. For that reason, "Real Beauty Sketches" differs from all the other examples mentioned in this article.
The idea itself is simple, but the form in which it is cast is authentic, memorable, and unusual. The message is straightforward: women do not perceive their true beauty and often think that they are uglier than they are. To prove them wrong, Dove comes up with a brilliant social experiment.
The experiment involves the forensic sketcher Gil Zamora and various natural-looking women who describe their facial features based on what the artist is sketching their portrait. Neither the artist nor the person being portrayed can see each other. Later on, Gil Zamora sketches another portrait of the same person he depicted before based on the description that is given by the stranger. As one can imagine, the second portrait is more close to the depicted persons' physical appearance. Moreover, it is more beautiful. Therefore, the result is pleasantly surprising and heartwarming for the participants in the experiment.
What makes this video stand out that strong compared to all the other viral content?
There are multiple reasons. First of all, it is easy for the female viewer to identify with the topic it tackles. Dove makes it clear that a woman's worst enemy and harshest critic is herself. Thus, the video makes the audience reflect on a topic at a deeper level and ask themselves whether they are too self-critical.  
Moreover, the video acquires a positively educational character making it highly shareable. People tend to share material that is not just about advertising the products (typically done in an aggressive manner), instead, the material should break down common stereotypical thinking, be witty and positive. In the video, one can see Dove's logo, but other than that, there is no commercial indicator to push the audience to buy its products. Advertising works best subconsciously.
Similarly to the Purple "Raw egg test" video, "Real Beauty Sketches" inspired the audience to generate their own material. On Youtube, one can find multiple parodies related to the original video. Good viral material has a tendency to start living its own life. Just like in biology, it changes and mutates, creating new viral strains. 
Cladwell
Cladwell (founded in 2012) is an application and online store that digitally allows clients to store everything available in their closets. In 2013, just after Dove had come out with their "Real Beauty Sketches", they launched their parody version of it. The parody is self-explanatory, but the main idea is that when women were depicted as the worst critics of their physical appearance, then men are the biggest fans of themselves. Thus, the video ends with the line "You might not be as good looking as you think". It was a smart move by Cladwell to use the virality of the original video and turn it into a funny parody as it obviously attracted people to check out the brand and its products.
Tips: Create meaningful content that addresses issues related to society and its misperceptions more broadly if possible. The advertisement does not have to be always about the product(s). Probably the most viral content on the Internet pushes people to reflect on the matter they just saw, hence motivates them to share the content.
Dove's example shows that the idea is to cement a healthier and more adequate body perception. Therefore, their ads also use real women (not models) to show the younger generations that there is no place for body shaming, trying to build more self-confidence in women.
Additionally, be ready to borrow some ingenious viral material and add a twist to it, making it your own as Cladwell did. In any case, you will increase your brand's awareness boosting your sales.
4. Tommy Hilfiger chose to run a very bold and even shocking ad campaign (1985) that made him overnight notoriously famous
In this case, we can't really talk about viral marketing in the modern sense. Nonetheless, it is a great example of an extraordinary approach in the marketing sphere, due to which the designer received plenty of recognition instantly. You can take it as an example of an outrageously bold marketing strategy.
Back in 1985, Tommy Hilfiger was an unknown name (not to mention a struggling designer) in the fashion industry. The advertising genius Georg Louis came up with the brilliantly insane marketing idea. Namely, he convinced Hilfiger to present his name next to the 3 most famous American male designers of that time on the enormous billboard hanging over New York's Times Square. It was outrageous to let his name be compared with well-established designers like Ralph Lauren, Perry Ellis, and Calvin Klein, but it paid off 100%. 
Why was the campaign that successful?
The campaign was bold and playful. It offered a pretty simple word puzzle with great fashion designers' names. The names were predictable until the viewer/reader met the name T_ _ _ _ H_ _ _ _ _ _ _ This left the viewer puzzled and aroused curiosity even if the person wasn't particularly interested in fashion. It triggered Word-of-mouth marketing as people wanted to understand who dared to be behind these dashes.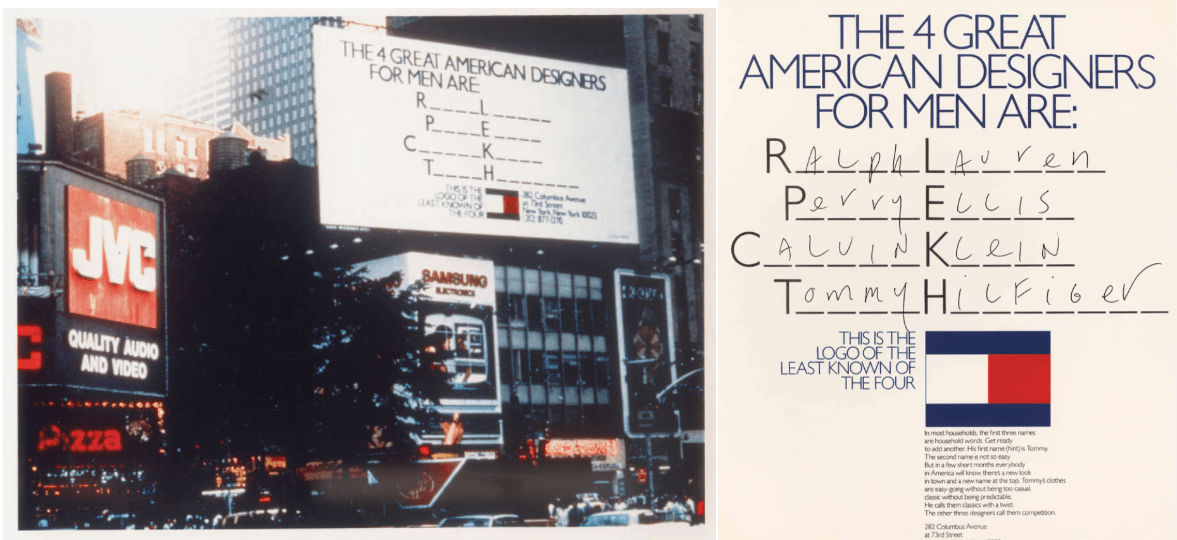 Hilfiger has mentioned in numerous interviews afterward that at the time, he felt really embarrassed and spent quite a few sleepless nights thinking already of the failure of his career. He had wanted to choose the safe way to advertise his brand (meaning taking photographs of the models somewhere on the sand dunes), but George Lois was completely against the idea, claiming that it would take 20 years to reach the goal this way and boy was he right!
Hilfiger decided to take the challenge and worked even harder to prove to himself and everyone else that he deserves the place next to the above-mentioned designers. He later said that "If I hadn't listened to George Lois in 1985, I'd probably be poor today."
In this case, the ad campaign was ingenious, but it is important to emphasise that all the buzz around the brand would have faded if the product itself wouldn't have been great. However, the campaign helped to put the brand in the spotlight of the global fashion industry.
Tips: Not many people have the guts to tell that they do something (extremely challenging) and then they really do it proving they are right. It requires incredible courage, determination, and a certain amount of insanity. Sure, it is risky, but without taking any risks in your business, it is hard to achieve something revolutionary. We sure recommend you not to play it safe!
Conclusion
As mentioned before, we know how difficult (but not necessarily unthinkable) it is to achieve virality nowadays. In the 21-st century, people are so overwhelmed by the daily flood of information, that it makes it impossible to keep track of all the news coverage and social media posts, even if some of them deserve more recognition. Therefore, if you manage to engage massive attention with your content creation and shine through the abundance of the marketing noise, you will know that you have achieved something out of this world. 
We hope these 4 case studies presented in this article encourage you to let your inner creativity loose and think big. While creating your marketing content, you may want to highlight your product(s), focus on your target audience, appeal to strong emotion and humor, or take a risk to shock the world and later prove your point as the protagonists of this article did. But you may want to choose a completely different strategy. Really, there is no hidden secret when it comes to virality. No-one knows how to predict the lottery numbers. However, when you hit the jackpot, you should be ready for what comes next!
With great power comes great responsibility
This old proverb from the 18th century that probably is more known through the Spiderman comics and movies fits here to characterise the idea of the sudden and unexpected virality – the power. If the orders start to bombard your shop, you need to take the responsibility for the order fulfilment and shipping. In such a situation, Outvio is the perfect tool for you!