Inside this article
As an organization grows and its operations diversify, information management becomes essential to business performance.  A control tower offers companies a holistic view of their operations, providing precision in the internal control of processes.
Below we compare the most important supply chain control tower providers so you can find the best software for your business.
Comparisons of supply chain control tower providers
| Provider | Main industry | Price |
| --- | --- | --- |
| Outvio | eCommerce | $ |
| SAP | Business management | $ $ $ |
| Oracle | Manufacturing | $ $ $ |
| Network Enterprises | Communication | $ $ |
| IBM | Cloud computing | $ $ $ |
Best 5 supply chain control tower software providers
1. Outvio
Outvio is the best supply chain software provider for eCommerce. Their solution synchronises and automates all the processes that follow the payment of a purchase. You will be able to optimise your fulfilment operations, carriers, customer service, and returns and exchanges.
Furthermore, Outvio is one of the most complete operational control towers for online shops. Its advanced dashboard allows you to monitor the performance of your business and that of your couriers in real time. 
Advantages and features
The best control tower for eCommerce industry
Full automation of the entire post-purchase stage, including exchanges and returns
Centralisation of delivery processes on an international scale
Automatic logistic and delivery issues resolution
Complete data dashboard for eCommerce
Very good pricing for the feature set included in the software 
2. SAP Business Planning
SAP Business Planning is designed to help businesses effectively plan and manage various aspects of their operations, with a particular focus on financial planning and analysis. SAP Business Planning offers a wide range of tools and functionalities to support financial planning, budgeting, forecasting, and performance analysis.
Advantages and features
Comprehensive view of real-time financial and operational data
Strategic decision-making based on updated information
Efficient management of financial and human resources
Integrations with other ERP systems
3. Oracle transportation 
Oracle Transportation is a transportation management software solution offered by Oracle Corporation. It is designed to help businesses efficiently manage and optimize their transportation and logistics operations. They provide a wide range of tools and capabilities to streamline processes related to planning, execution or visibility monitoring.
Advantages and features
End-to-end visibility of the supply chain
Efficient management of routes, inventory, and resources
Reduction in operational costs and precise deliveries
Good option for manufacturing industry
4. One Network Enterprises
With a strong focus on innovation, One Network Enterprises provides advanced networking hardware and software tailored to meet the diverse needs of businesses. Their extensive product range includes enterprise routers, switches, and cybersecurity solutions, ensuring robust and secure network infrastructure. 
Advantages and features
Effective collaboration among business partners
Coordination of activities in the supply chain
A more agile and cost-effective supply chain
Collaborative supply chain management
Demand and supply planning
Inventory optimization
5. IBM
IBM (International Business Machines Corporation) is a multinational information technology and technology services company. They offer a wide range of products and services, including hardware, software, consulting services and business solutions. 
Advantages and features
Provides flexible and secure cloud computing solutions
Strong emphasis on cybersecurity
Powerful data analytics and AI capabilities
Provides comprehensive support and services to assist clients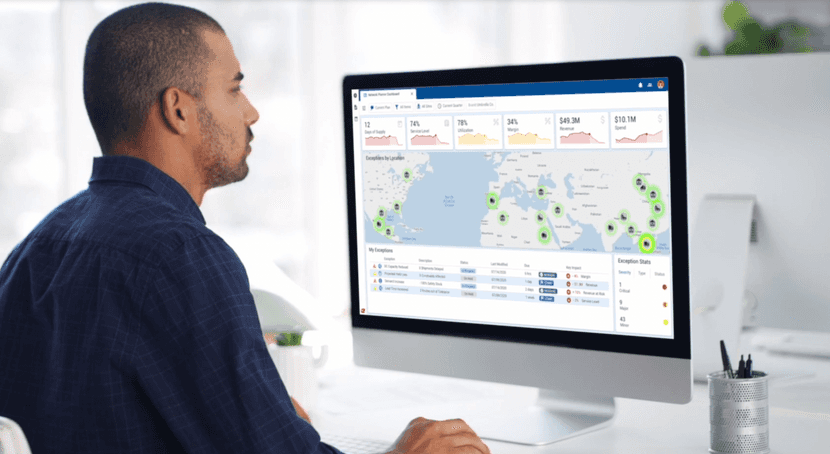 Benefits and advantages
Working with a supply chain control tower software provider gives you the following advantages:
Centralisation of operations
You will be able to unify your work in a global tool and guarantee a more efficient, faster management, adapted to the requirements of each client, supplier or process, regardless of the area or department involved.
Optimisation of strategies
Decision-making based on objective data helps to find better competitive strategies, correct misalignments and better adapt to new trends. It is also fundamental to monitor the ROI of our business decisions.
Up-to-date information 
The control tower provides real-time insights into all connected internal activities, from procurement to reverse logistics. You can anticipate and proactively manage potential risks in your business or keep the customer always informed about the status of an order or return.
Higher quality customer services
Synchronising work areas allows you to adjust response times to customer needs, guarantee on-time deliveries and offer personalised and higher quality services. 
Cost reduction
By having greater control over your operations, your management will be much more efficient and require fewer resources. Waiting times in the warehouse will also be reduced and you will be able to resolve logistical and transport incidents with greater ease
How to start working with a control tower provider
The next tips will be useful if you want to integrate a control tower within your business: 
Identify why you need a control tower system and what your specific objectives are. Are you looking to improve efficiency, increase visibility of operations, or optimize sales and returns processes?
Provide adequate training to your staff so they can effectively use the control tower system. This includes operators, supervisors and other relevant employees.
Ensure that the control tower system can be effectively integrated with other systems and applications already in use in your company, such as inventory management systems, order tracking software, etc.
Establish regular monitoring and maintenance procedures to ensure that thecontrol tower system functions optimally and is kept up to date.
FAQ
What is a control tower
A logistics control tower is advanced software used to centralise and manage the operations of a supply chain efficiently and effectively. It monitors and coordinates the flow of merchandise, goods, information and resources throughout the value chain and the purchasing  experience.
How to deploy a supply chain control tower
The first option is to "buy," where you embed control tower capabilities within your existing supply chain management platform. The second option is to "build," involving the creation of a data lake and the application of business intelligence for data visualization.
Conclusion
Control towers have become essential software for companies looking to optimize their logistics operations. With different types of supply chain control tower software providers available and a variety of suppliers on the market, companies have the flexibility to choose the solution that best suits their specific needs.