Inside this article
What is the best eCommerce platform for your online business? If you have decided to launch your own online store — or if you already have a brick-and-mortar store and are ready to jump into the digital sphere — this article is for you!
Discover the best eCommerce platform to launch your online business with consideration of their price, usability, and other factors before rushing into choosing a platform for your store.
What is an eCommerce platform?
An eCommerce platform is a digital tool that helps retailers create a store online. The basic functionalities are the creation of the website and domain, basic customization features, a catalog management system, payment gateway, basic order management, and a simple customer management tool.
The variety of price and features is immense, which is why choosing the best eCommerce platform isn't easy and you definitely have to do deep research.
This article is meant to be a starting point that will help you understand the core features of the most popular and best eCommerce platforms:
Shopify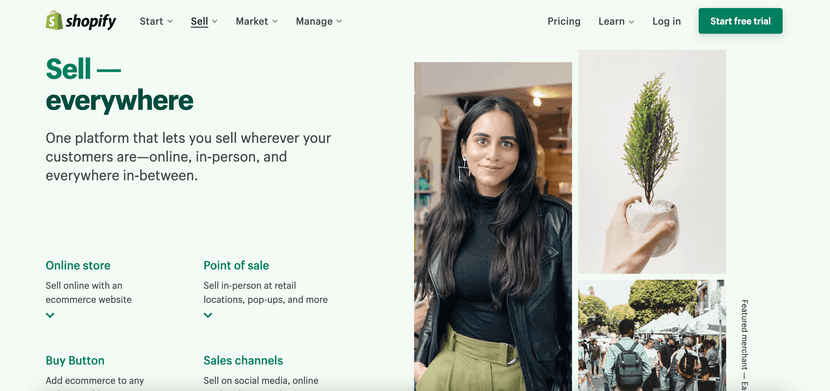 Shopify offers a ready-to-use solution for online stores that don't have complex operations or want a custom-made look. From inventory and customer management to marketing tools and payment providers, you can simply choose a template, add your products, and have your store running in only a matter of hours.
The price includes the cost of the domain, hosting, and updates. Discover the pros and cons of Shopify.
Shopify also has an advanced solution for retailers that plan to run (or already run) complex operations. You can check out the basics of Shopify Plus* and see if it's for you!
*Shopify has dedicated features for sales only in the Plus version.
Ecwid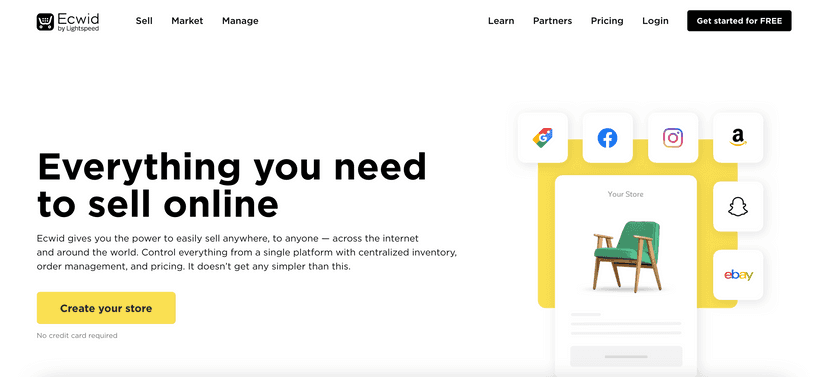 Ecwid is another ready-to-use eCommerce platform, and is even easier to use than Shopify, although its features may not be enough if you already have an extensive product catalog.
Ecwid is more convenient for small retailers, or for businesses' whose sales are done majority offline or through marketplaces. This platform may not be ideal if you plan to combine and B2C operations.
If you are interested in knowing more about Ecwid, check out our Ecwid review.
Wix
Wix is an easy-to-use solution that works along the lines of Ecwid, Squarespace, and other ready-made eCommerce platforms.
Its low cost makes Wix a good choice for smaller retailers that may not need complex functionality or a month-opening design. You can open a store and start customizing it for free; Wix will only ask for a payment if you want to launch it to the public.
If this aligns with your business idea, it's worth exploring further by reading the advantages and disadvantages of Wix and creating your store at no cost.
However, if you are truly looking for the best eCommerce platform, Wix may not give you everything you need, especially if you plan to combine and B2C sales under the same store.
BigCommerce
BigCommerce is a popular plug-and-play eCommerce platform that is used worldwide. BigCommerce adapts to small and large operations since they offer three fixed-price plans that go from around $30 to $300/month.
If you need more functionality, or if your sales value exceeds $400K/year, you can request a quote for their Enterprise plan to receive a personalized offer for your business.
Squarespace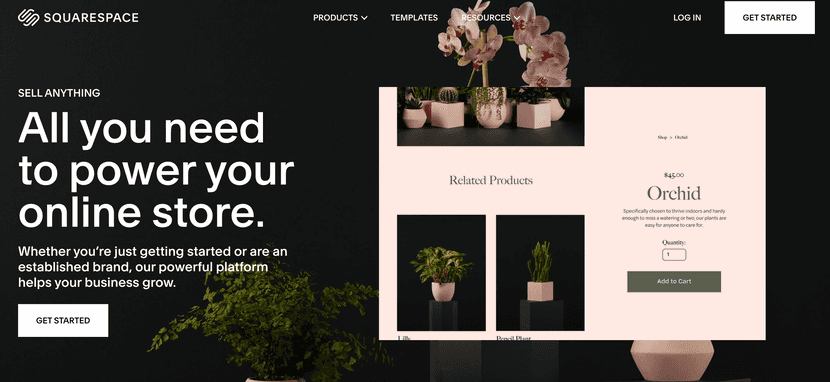 Squarespace is the last ready-to-use solution worth mentioning. If the visual elements of your online store are important to you or your clients, and your budget is low or you don't want to create your website from scratch with custom development, Squarespace may be one of the best eCommerce platforms you can use. 
However, if your business is also B2C, combining both operations under a single Squarespace store may not be easy or even sustainable in the long run.
Squarespace, after Shopify, is one of the most flexible solutions in the market, as it allows for some customization through HTML coding. Discover the pros and cons of Squarespace.
PrestaShop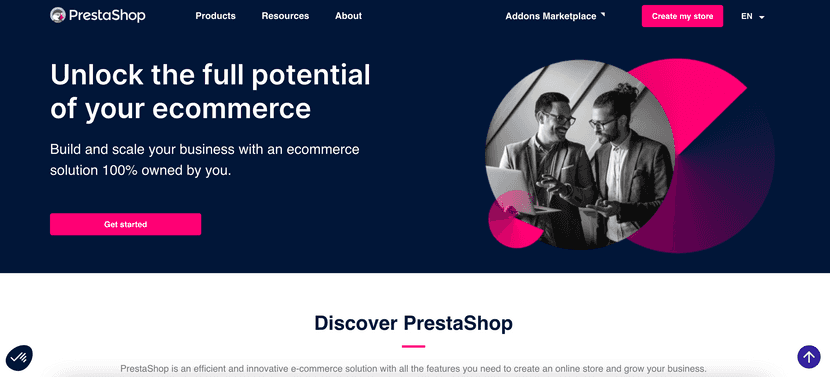 This eCommerce platform is open source, which means that you can design the operation, features, and visuals of your online store as you wish. This makes PrestaShop a very good solution as a eCommerce platform.
Although free, you will most likely need to hire developers to create the store, but also to update and maintain functionality and develop new features as needed.
PrestaShop gives you the opportunity to customize the store to your liking without limitations. This is one of the biggest differences between ready-made solutions and systems like PrestaShop, Magento, or WooCommerce.
You can learn more about this platform by reading our PrestaShop review.
Magento / Adobe Commerce
Adobe Commerce — formerly known as Magento — is another eCommerce platform that is targeted to bigger online stores, as its price and learning curve aren't ideal for beginners or retailers in a rush. Moreover, finding developers that have experience with this platform isn't easy or affordable.
Adobe Commerce is currently available through two plans: Adobe Commerce Pro and Managed Services. As you may have guessed by their names, Managed Services includes more functionality and assistance than the Pro version, but they both come with some functionality that makes them one of the best eCommerce platforms on the market.
If you are looking to create something from scratch but are running short on time or have a limited budget, both PrestaShop and WooCommerce are better options for you. However, if you want to learn more about Adobe Commerce, discover the pros and cons of Magento.
WooCommerce
Similar to PrestaShop, WooCommerce offers a solution that can be adapted to the aesthetic you have in mind. It also allows you to create custom developments in a much easier way than Magento, and scales with you as your needs change. WooCommerce is an intuitive platform that can even work for small retailers that are tech-savvy or curious.
WooCommerce can be additionally or exclusively used for sales simply by installing a plugin or extension for operations. You'll need to manually review and approve each customer, but once they are, they will be able to use all the functionalities for customers.
Outvio
Regardless of the eCommerce platform you select for your online store, Outvio will streamline your sales channels and consolidate them into a single hub.
Outvio is a powerful and versatile tool that seamlessly integrates with various platforms, and B2C, providing a unified interface to manage all your sales channels efficiently.
This way, you can effortlessly connect your online store with multiple marketplaces, such as Amazon, as well as the platforms mentioned above.
This consolidation enables you to synchronize inventory, orders, and customer data, ensuring consistent and accurate information across all channels: track shipments, manage returns and exchanges and automate communications from a central location.
Outvio will save you time and empowers you to deliver exceptional customer experiences across every touchpoint. Sign up now.
Key functionalities
| eCommerce platform | Ease of use | Scalability | Loading time |
| --- | --- | --- | --- |
| Shopify | ** | *** | *** |
| Wix | * | ** | **** |
| Ecwid | * | ** | *** |
| Squarespace | * | ** | ** |
| PrestaShop | **** | **** | ** |
| Adobe Commerce | ***** | ***** | **** |
| WooCommerce | *** | ***** | *** |
Pricing
| eCommerce platform | Free trial/plan | Plan 1 | Plan 2 | Plan 3 | Plan 4 | Flexible pricing |
| --- | --- | --- | --- | --- | --- | --- |
| Shopify | Free trial | $29 | $79 | $299 | From $2000 | Yes |
| Wix | Free plan | €17 | €25 | €35 | X | Yes |
| Ecwid | Free plan | €17 | €25 | €35 | X | Yes |
| Squarespace | Free trial | €15 | €24 | €28 | €42 | Yes |
| PrestaShop | Free | X | X | X | X | No |
| Adobe Commerce | Free version | X | X | X | X | No |
| WooCommerce | Free | X | X | X | X | No |
Conclusion
If you are looking for the best eCommerce platform for your business, you will have to sit down and analyze your priorities and budget before making a decision. Creating your online store needs a considerable amount of time and resources, and shouldn't be rushed.
However, if your priorities and budget change or you simply discover that you chose the wrong platform for your business, you'll be glad to know that, in most cases, you can easily migrate your store to a different platform without losing data.
Whether you go all-out with the most powerful options (such as Adobe Commerce), or if you opt for a ready-made solution such as Shopify, you will discover areas where these platforms seem to be inefficient once you begin running your business.
Managing all your post-purchase operations is a lot simpler when you partner up with a solution like Outvio. Offer your customers the best shopping experience while you grow.
Sign up and connect any of these eCommerce platforms and any marketplace to Outvio.