Inside this article
The acronym CRM, which stands for customer relationship management, encompasses different processes and tools that are used to manage customer relations, increase eCommerce profit margins and encourage customer satisfaction.
Currently, CRMs are at the center of every business strategy that's focused on building customer loyalty since it serves as a means of communication between all areas of a company and the customers.
So, without further ado…
What is a CRM?
CRM refers to the software systems used for managing all points of contact that a company has with its customers. They are normally used by marketing, sales and customer service departments.
CRMs place customers at the center of the business strategy and include tools to increase customer satisfaction. By giving attention to the buyer, online stores can build customer loyalty and retention, and ultimately create brand ambassadors.
To manage all these communications and provide the best customer service, it's extremely useful to have a CRM platform capable of extracting, storing and analyzing all customer information.
What does CRM mean?
CRM stands for customer relationship management. A CRM system streamlines communications and helps improve customer service in a convenient and efficient way.
Without it, you won't have the necessary data to create a truly memorable shopping experience for your customers or provide quality customer service.
How does a CRM system work?
CRM software systems collect all the information allowed by the customer and centralize it in a database. In this way, all actions related to customers are carried out in much less time and with fewer resources. This database is available to different departments within the organization.
Imagine, for a moment, having to manually manage all customer information: phone numbers, emails and other customer data, such as the purchasing history or the questions they ask most frequently. The CRM classifies and filters all this information, which is also sourced automatically, so that you can access it in a few seconds.
At the same time, the CRM also analyzes data in search of new behavior patterns that can serve as clues for marketing and sales campaigns in the future.
5 benefits of using CRM systems
1. Better knowledge of customers
CRM systems provide the tools necessary to collect customer information that can later be used to get a more accurate view of a customer's needs and their overall profile.
2. Accurate segmentation
With easy access to a database containing all customer information, you can use the data to sort buyers and potential customers depending on different factors, such as age, gender and/or location —or even purchasing history and return tendencies.
3. More customer retention
Knowing what the customer wants and needs is powerful information to have, simply because it'll help you determine what to offer and how to target it.
By using this competitive advantage, you'll be able to build customer loyalty and retention, increasing the lifetime value of customers and your eCommerce profit margins.
4. Anticipation of needs
Implementing a CRM software system also means that it will be easier to create cross-selling and upselling strategies based on customers' buying habits.
Additionally, the information provided by the CRM system can be used to create new products to cover needs you may not be addressing right now.
Take customers' doubts and complaints into consideration in order to perfect your products and marketing strategy. This will help you achieve customer satisfaction.
5. Speedier and efficient communication
Providing fast and efficient customer support is one of those actions that will make you stand out from your competitors.
A CRM system that offers you customizable and ready-to-use email templates will save you time while increasing the level of satisfaction among your customers.
Very frequently, these CRM software systems can also automate the process of sending emails and other communications via social media platforms, or SMS. This will help any online store solve common questions by sending the response automatically and releasing pressure from customer support.
What does a CRM do?
Marketing

Sales

Customer support

Lead segmentation

Customer management

Contacts management

Campaign automation

Management of inactive account

Contact list management

Lead follow-up
L

ead follow-up

Claims resolution

Report creation

Sales proposal automation

Communication

Price and invoice control

Goal monitoring

Satisfaction-level monitoring

Data analysis and statistics

Meetings management

Issue prevention

Emails management

Database update

Feedback management

Ad revenue monitoring

Creation of sales forecast

Chatbot

A/B testing

Creation of a unique sales flow

Ticket system
CRM for sales
According to Forbes, sales teams spend about 18% of their time on a CRM system. The technology used in the most advanced CRMs can be very useful for finding new business angles and thereby improving sales. They can also be used to segment communication with customers based on their stage in the conversion funnel.
CRMs are tools specifically designed to manage leads from the first moment. For instance, your sales team can control all your brand interactions in real-time and filter information to create sales campaigns that perform better.
CRM for marketing
One of the great advantages of CRMs is that they are capable of creating a single hub to connect marketing and sales activities, providing the same information to both teams.
Your marketing department can use a CRM to reach customers at the right time. To do this, you'll need to analyze user behavior to extract insights and adapt your marketing actions.
An example of how you might adapt your actions would be to use the CRM system to automateemail marketing campaigns, considering segmentation and scheduling them for the best moment.
CRM for customer support
Post-checkout operations are, for many large companies, the most profitable stages to optimize, since both the shopping experience and customer satisfaction are strongly linked to thepost-sales process.
Having a CRM that automates communication processes, filters information and tracks behavior is fundamental for any large eCommerce business.
Outvio helps you optimize and automate dozens of tasks related to post-checkout, from shipping options to support and remarketing strategies. With Outvio, you can offer your customers the best possible shopping experience while also saving resources and streamlining internal processes.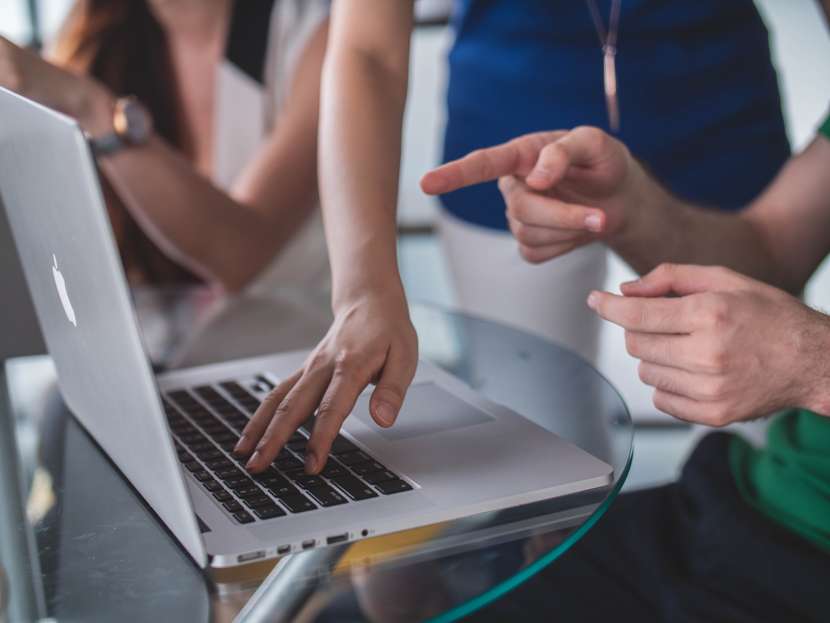 Types of CRM
When it comes to classifying CRMs, they are normally divided into cloud CRM and on-premise CRMs.
On-Premise CRM
On-premise CRMs are located on fixed servers or on an external provider. These CRMs require special maintenance and can have scalability issues as the organization grows. On-premise CRMs are normally used by companies that want full control over their operations.
Cloud CRM
Cloud CRMs, or cloud-based CRMs, are software solutions available online without any installation or maintenance required. These SaaS companies offer all the features needed in a CRM at a lower cost, compared to on-premise CRMs.
Differences between on-premise CRMs and cloud CRMs
| On-Premise CRM | Cloud CRM |
| --- | --- |
| Partial accessibility | Full accessibility |
| Full control of the operations | Dependance on external providers |
| It requires professional maintenance | It doesn't require maintenance |
| High-investment scalability | Low-investment scalability |
| Typically custom-designed | Functionalities depend on the provider |
| Costly updates | Frequent and free updates |
CRM for eCommerce
CRMs offer advanced solutions so that companies can manage their customer relations much more efficiently.
Without these tools, businesses would need to manage customer-related activities manually, causing inefficiencies. This can be resource-intensive in the long run.
CRMs can be used by many departments for various tasks to help automate processes, reduce costs, and connect and ease internal & external communications.
How does Outvio help your business grow?
Outvio is a tool designed to accelerate the growth of any online store that is interested in providing the best customer service. With its functionalities, you can:
Automate and keep track of orders, shipping and returns
Accelerate customer service and shipping issue resolution
Track parcels in real-time
Obtain advanced business statistics
Customize your communications with your branding and remarketing strategies
Sign up to streamline and optimize your post-checkout operations today!
FAQ about CRM
How do you use a CRM?
The first step toward using a CRM is choosing one. Make sure to take into account your sector, needs, and goals to choose the solution that best suits your business. After that, you can create an integration plan for all your departments and employees.
What's the purpose of a CRM?
The purpose of a CRM is to provide the business with valuable data that can be used to determine behavior patterns, make forecasts and prepare for new needs.
How to create a CRM strategy?
The key to a successful CRM strategy is to set clear goals and present them to all departments to ensure cooperative work.
What is a social CRM?
A social CRM is a business strategy that aims to connect social media channels with the CRM to extract customer data and create more accurate buyer profiles.
Conclusions
CRM software systems are a great tool to use for large eCommerce companies. All the benefits of CRMs are directly related to the satisfaction of their customers and the success of the company, hence their popularity nowadays.
After getting to know the different types of eCommerce CRMs and what they do, you can use your CRM platform to improve results across all your departments: sales, marketing, support, etc. Before you know it, you'll be enjoying the many benefits of using CRM systems.