Inside this article
If you've found yourself reading this article, you're probably about to create your online store or you already have an eCommerce business. Maybe you aren't happy with your eCommerce platform, or maybe you're just curious about what other platforms can offer. Keep reading to find out which platform is better: Shopify vs. Wix.
Shopify is one of the most popular eCommerce platforms. Catered mainly to small and medium-sized online stores, this platform allows sellers to commercialize their products nationally and internationally through an intuitive interface. Shopify has some customization tools like templates and apps, and it even enables small code modifications.
Wix is ​​a platform for website creation, although it also offers some eCommerce functionalities. This means that it may not be as comprehensive as Shopify in some aspects. However, Wix is ​​a very easy tool to use, and it can be easily upgraded with Wix apps.
Now that you have an overview of these hosted platforms, we'll discuss further advantages and disadvantages of each, as well as other relevant factors to consider before you decide which one is the winner: Shopify or Wix.
Advantages of Shopify
Shopify has many advantages and useful tools when it comes to managing an online store. These are the most important ones:
Ease and speed of creation
Intuitive interface
Internationalization potential (multi-language, multi-currency, multi-store)
Shopify apps for store optimization (over 6,000 apps)
Advantages of Wix
Opening an online store on Wix also has its advantages:
More than 80 templates and the possibility to create your own
Wix apps to extend your store's capabilities
Tools to ease the creation of the website, such as the drag and drop editor
Intuitive interface
In this comparison table, you can see a summary of the advantages of Shopify and Wix.
| Shopify | Wix |
| --- | --- |
| Ease and speed of creation | Over 80 templates |
| Intuitive interface | Intuitive interface (drag and drop editor) |
| Tools for internationalization | Low cost |
| Over 6,000 Shopify apps | Wix apps marketplace |
Disadvantages of Shopify
Using Shopify also has some drawbacks. These are the disadvantages that stand out the most:
You'll need to pay for a subscription as long as you use the service
You'll have to pay sales commissions. When you make a sale on Shopify through its payment gateway, the platform charges a sales commission that varies depending on the plan you have contracted.
Scaling your business on Shopify is possible, but at a certain point, it means a high investment (Shopify vs. PrestaShop).
Disadvantages of Wix
Using Wix also has some drawbacks:
Once you publish the web page, you can't change the template. To change the template means having to start your online store from scratch —and using the resources required to do so.
It doesn't include internationalization features, so final prices will always appear in the currency you chose for your online store.
It isn't sufficient for online stores with more than 50 products.
Now that you're familiar with what each platform offers, as well as their advantages and disadvantages, it's time for you to consider other key factors, like the cost of creation, ease of use or scalability potential.
Cost of creation and maintenance
In this aspect, both platforms are similar. Neither is free to use, and you will probably need to install apps in both.
Wix is a slightly cheaper platform than Shopify, but a simpler version of Shopify offers more than a more advanced version of Wix, so you'll need to keep that in mind as well.
If your budget is really tight, it may be better to save on other aspects of your business; although it's slightly more expensive, Shopify offers more for less.
Ease of use
Both platforms are relatively easy to use, although Shopify has been on the market for many years, which means there's plenty of useful information about it on the internet. So while both are easy to use, Shopify has more official and unofficial resources to help you open and manage your online store.
Potential to scale the store
Wix isn't meant for big online stores. In fact, it isn't even created for eCommerce. This becomes quickly evident while using the platform.
If the scalability of your business is an important factor for you, Shopify offers subscription plans that can be used by small stores (Basic Shopify) and large multinationals (Shopify Plus).
IMAGEN SHOPIFY ENGLISH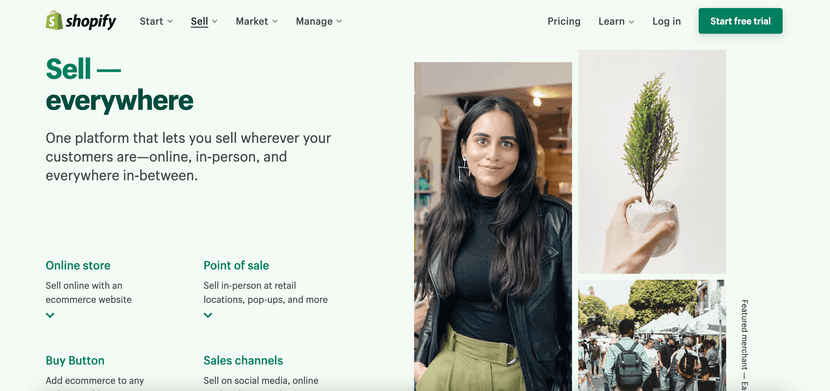 Another area that Wix leaves unattended has to do with the internationalization of your business. As we mentioned, Wix doesn't have basic features like a multi-currency solution for retailers that sell in more than one market.
Migration possibilities
In this aspect, Wix definitely loses out compared to Shopify, since Wix doesn't allow you to switch platforms or even change the template of your store once you've launched it.
So if you're not sure which platform to choose, Wix may not be the best choice, because you'll have to recreate your store from scratch if you later change your mind.
This isn't the case for Shopify or other platforms that can be easily migrated through a tool or with the help of a developer.
Store customization
Wix is quite a limited and limiting platform since it doesn't even allow you to change the template without losing all your data.
Shopify, although not an open-source platform, does allow you to make certain modifications through custom basic coding or the installation of Shopify apps.
The truth is that adaptability isn't the strong suit of either of these platforms. If this is a really important element for your online store, you may want to look elsewhere. Maybe a self-hosted platform like WooCommerce or PrestaShop would be a better fit for your business idea.
Conclusions
Remember that, regardless of the CMS you choose, Outvio allows you to connect your online store to our post-checkout platform to automate and streamline dozens of process, from fulfillment to shipping, tracking, returns and customer support —while providing marketing tools to personalize and improve customer communication and reducing eCommerce costs.
We hope that this comparison has helped you choose between Shopify and Wix. You can research these platforms further or, if you feel like a hosted solution might limit the growth of your online store, check out some other eCommerce platforms that might better suit your business.