Inside this article
In today's article, we compare two of the most-used platforms for creating an online store, so that you can choose which one is best for your business: Shopify vs. WooCommerce.
If you've landed on this article, you're probably thinking of opening an online store or migrating your current store to one of these platforms.
The next step you have to take is to decide which one is right for you.
Let's start with a brief overview of Shopify. Shopify was one of the first solutions created to open and manage an online store. This CMS caters to small and large merchants around the world and provides a ready-to-use platform to start selling in just a few hours.
Shopify is a hosted platform that works through a subscription model, provides everything you need for selling online and takes care of boring and complex tasks like security and traffic management.
Now let's talk about WooCommerce. WooCommerce is an open-source plugin that works on WordPress. Being open-source means it's highly modifiable. This makes it easy to create a customizable online store with all the necessary features and functionalities as well as the aesthetic you want.
Now that you've got a rough idea of both platforms, we'll share the main advantages and disadvantages of each and give comparative tables to summarize the information.
Later, we'll share some additional factors to consider before choosing between Shopify vs. WooCommerce.
Advantages of Shopify
Shopify offers many advantages and useful tools when it comes to running an online store. These are the most important:
Anyone without technical knowledge can create a store on Shopify.
This platform has a very user-friendly interface that anyone can quickly get used to.
Fixed costs make budgeting easier, regardless of the size of your business.
Because it's a very popular platform, you can find a lot of information on the internet to solve any issues that may arise.
There are more than 6,000 applications to extend your online store's capabilities.
Advantages of WooCommerce
Opening your online store in WooCommerce has many advantages. Here are the most notable for us:
It's an open-source plugin. This means that you can create, modify and customize your store to suit your preferences and needs.
This plugin is free to download and install (server and domain not included).
It has an intuitive design, both for the seller and for the buyer. Compared to other open-source platforms, it's quite easy to use.
It's scalable. Because it's open-source, you can add new features via custom developments or the installation of WooCommerce plugins to scale your business on WooCommerce.
In this comparative table, you can see a summary of the advantages that each platform has.
| Shopify advantages | WooCommerce advantages |
| --- | --- |
| Speed and ease of creation | Open source: modifiable and customizable |
| Easy to use | Easy to use |
| App store | Plugin store |
| Fixed cost | Free to download and use |
| Great popularity: online resources | Large community of developers |
| Scalable | Scalable |
Disadvantages of Shopify
Using Shopify as a platform for your online store also has some drawbacks. These are the ones that stand out the most:
Customization features are very limited.
The fees. Shopify comes with sales fees that vary depending on the chosen plan.
Disadvantages of WooCommerce
Using WooCommerce also has some drawbacks. These are some of the disadvantages that stand out the most:
Relying on plugins for the growth of your business can cause compatibility problems in the long run, since plugins tend to be created individually and don't take into account other plugins.
You need to take care of the security, traffic changes, updates and domain yourself unless you outsource these tasks.
Now you have a complete overview of what each platform does (and doesn't do). However, there are still more aspects that you may want to consider before choosing one of these platforms or opting for a third one.
Before deciding on a platform based solely on its advantages and disadvantages, it's important to consider what you are looking for in an online store.
The following aspects may be relevant in the medium and long term, so we invite you to consider them when you compare eCommerce platforms.
Cost of creation and maintenance of the online store
While regular selling on Shopify requires you to pay for a monthly subscription plan, selling on WooCommerce is free.
But the situation is a bit more complicated than that. Although it requires a subscription plan, Shopify is also a "ready-to-use" tool. That means that having to install paid apps on Shopify is only necessary if you want to optimize certain tasks and improve the look or function of the store.
WooCommerce, meanwhile, is a highly customizable platform. You can carry out this customization through the installation of plugins or by creating the plugins yourself, but this means higher costs and more time.
Ease of use of the platform
If you are accustomed to using WordPress, it probably won't be too difficult for you to work with WooCommerce, since this tool works in a similar way and even the aesthetics are similar.
On the other hand, Shopify was created as a tool for creating and managing online stores of all sizes and sales volumes but usability has not ceased to be one of its defining features.
Scalability of the online store
Both platforms perform well regarding this aspect, even though the way in which an online store is scaled in Shopify is quite different from how it is done in WooCommerce.
If the volume of your sales and your business on Shopify grows, you will surely need access to a larger number of features, including more complex ones. At this point, you will have to upgrade to a more advanced plan; you might even reach the Shopify Plus plan. This plan was created especially for very large companies and the service is offered with a tailored budget for each company.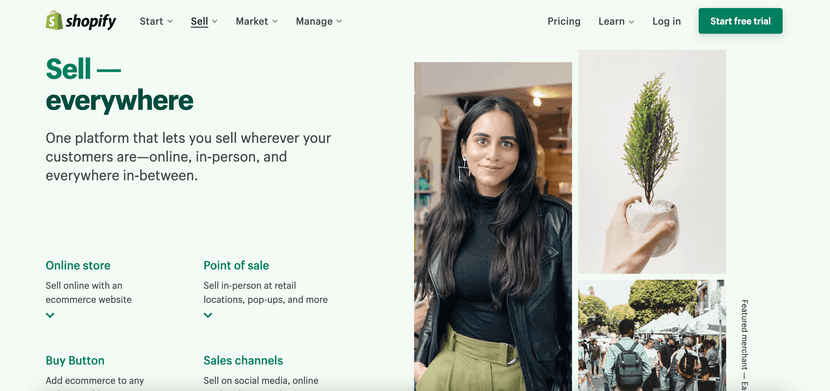 In the case of WooCommerce, all you have to do is add new functionalities through plugins or custom developments to solve the new needs and preferences.
Migration to another platform
Both platforms allow migrations through a tool or a programmer.
However, if you choose your platform based on all the criteria relevant to you, you probably won't have to migrate to a new platform later on.
Customization features of the platform
Both Shopify and WooCommerce are quite adaptable since both allow you to modify your online store when it comes to functionalities and aesthetics.
Nonetheless, WooCommerce beats Shopify when it comes to customization options. Because WooCommerce is open source, it can be fully customized.
Certain modifications in Shopify are possible, but they are much more limited than in WooCommerce.
If this is an important point for you (i.e. because you want to fully customize your online store), we recommend that you opt for WooCommerce.
Platform logistics system
Most eCommerce platforms often underestimate the entire logistics process (receiving orders, managing shipments and returns, etc.).
What should be a seamless experience for the buyer is neglected and can make the experience more worthy of complaint than praise.
Although the platforms that we have analyzed today, Shopify and WooCommerce, provide some tools and functionalities to take care of this task, they do not represent a sufficient or particularly professional option. But don't worry, you can use Outvio to streamline all your post-sales processes and provide the best purchasing experience to your customers.
Now that you have your winner in the Shopify vs. WooCommerce battle, maybe it's time to reduce your workload in the logistics department and improve your customer service.
We hope that this article has resolved any doubts you had about these two eCommerce platforms. Perhaps now you think that neither Shopify nor WooCommerce is the perfect solution for you and you want information about other platforms. In that case, you can read our articles about PrestaShop, Wix and Magento. To make the best decision for your business, the first and most important thing is to be well informed of all your options.