Inside this article
In this article, we will make a comparison between two of the trendiest platforms: Shopify vs. Squarespace to help you decide which one is better.
These two platforms are known for offering a quick and easy solution for the creation of online stores. The goal of Shopify and Squarespace is the same: to provide a fully functional platform in a simple manner. Creating a customizable and attractive online store is fast on both Shopify and Squarespace.
Both offer a multitude of templates to choose from and educational resources for you to navigate through their different platforms easily.
Shopify is a platform specializing in the creation and management of online stores. It's very easy and fast to create an online store on it, and Shopify provides customization features to create more original web designs that follow the style of your brand.
Squarespace is a software system for creating and hosting web pages and online stores. Its attractive designs and drag & drop editor makes creating your website an easy task with great results, without needing any special knowledge.
If you are set on migrating Squarespace to Shopify, keep in mind that doing this with an automated tool can be the key to promoting your company's growth.
Now that you know the basics about Shopify and Squarespace, we'll share the advantages and disadvantages of each of them and other factors to consider before you choose.
Advantages of Shopify
Shopify has many useful benefits and functionalities to manage an online store more efficiently. These are the most important:
Ease and speed of creation and use
All-encompassing service: Server, hosting, updates, etc.
Over 6000 apps to optimize your online store
Specializes in creating online stores (4 plans for all sales volumes)
Advantages of Squarespace
Squarespace has features that can be very beneficial if you're thinking of opening your online store or switching platforms. These are some of them:
Intuitive and attractive design
Ease of customization and use
Includes hosting, server, updates, and more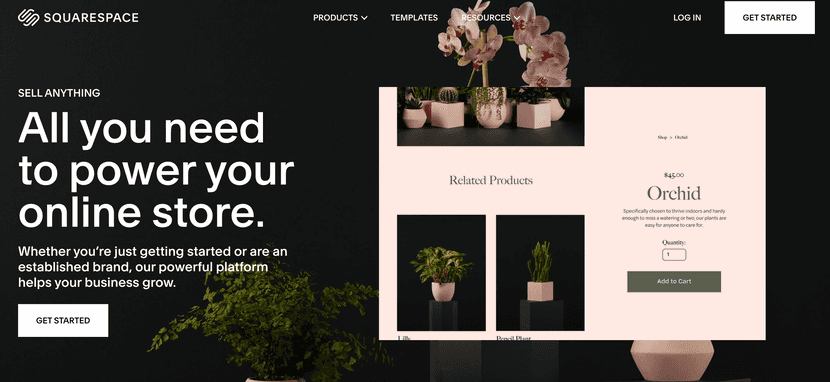 This comparison table summarizes the advantages that Shopify and Squarespace have.
| Shopify | Squarespace |
| --- | --- |
| Ease and speed of creation and use | Ease of use |
| +6000 Shopify apps | Attractive design |
| Includes domain, server and updates | Includes domain, server and updates |
| 4 eCommerce plans | |
Disadvantages of Shopify
Shopify also has some drawbacks. These are some of the most outstanding:
Fees. When you use the Shopify payment gateway, you need to pay commissions for each transaction that you receive
It's not fully customizable. Although you can change certain aspects of it, you can't completely change its functionalities and look (or, at least not without knowing how to code or hiring a web developer)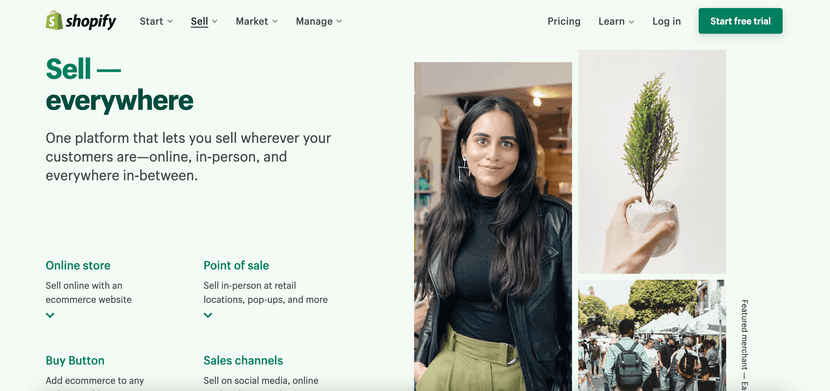 Disadvantages of Squarespace
Using Squarespace also has some drawbacks. Here are some of them:
Transaction fee. It's 3% for the Business plan. This fee isn't applicable for Basic Commerce and Advanced Commerce users
Slow loading speed. This will affect you once your business takes off
There are only three plans for eCommerce (compared to other platforms completely focused on online selling, two plans aren't enough to choose from)
Poor multilingual functionalities, making it harder to make your store accessible internationally
Not many customization features. You can change some parts of your online store, but you cannot modify the code, functionalities, or look 100%
This comparison table is a summary of the disadvantages of Shopify and Squarespace.
| Shopify | Squarespace |
| --- | --- |
| Fees | Fees |
| Not fully customizable | Not fully customizable |
| | Few eCommerce options |
| | Selling in more than one language means multiple stores |
| | Slow loading speed |
Now that you know the advantages and disadvantages of using Shopify vs. Squarespace, you may be more inclined towards one of them. Despite this, it's important to know other factors that will affect your business in the long run.
For example, you should consider what you need right now and what your future needs will be. Choosing a sophisticated tool implies more obstacles and a higher cost. 
Creation and maintenance of the store: Costs
Creating a professional online store on any of these platforms involves a fixed subscription cost, so you need to calculate the affordability of the project.
Specifically, running a Shopify store can cost you either $360, $950, or $3,590 a year depending on the plan you choose. Shopify offers a fourth plan, Shopify Plus, for larger stores. The price of this plan depends on the sales volume but starts at $2,000 per month.
A Squarespace subscription on the Commerce Basic and Advanced plans respectively cost €288 or €432 annually. You can also use Squarespace Enterprise if your online store needs more functionalities.
The cost of Squarespace Enterprise varies depending on a number of factors. Check out the features and ask for an estimate on their website.
Consider the functionalities and cost that each plan offers to help you decide which plan and platform is the best for your online business.
Ease of use
In terms of interface, both platforms are known for being easy to use while visually appealing.
If this aspect is important to you, we can recommend both of them. Pay attention to the rest of the factors that are important for you and your online store.
Platform scalability
If you plan on creating a successful online store or you already have a significant volume of sales, it may be best to go for one of Shopify's premium plans.
Squarespace poses several issues that may slow down the growth of your business and even damage its reputation, from poor loading speed to the need for creating multiple stores to publish a translated version of your website.
Migrations
Both Shopify and Squarespace allow migrations to other eCommerce platforms. However, migrations create a possibility of losing data and an extra cost and configuration investment. This is why we recommend choosing the best platform for your business from the beginning.
To do so, think about all the aspects that we mentioned before and those that may be specific to your sector or project, but that are equally important.
Platform adaptability
Squarespace is a modifiable platform to a certain extent. Apart from its templates and extensions, it allows you to edit the CSS and JavaScript code. This is only available on the Enterprise, Basic Commerce, and Advanced Commerce plans.
Shopify on the other hand enables the option to edit the theme code thanks to its Liquid tool, allowing you to modify the HTML, CSS, and JavaScript code. You can also install Shopify apps to extend the functionalities of your online store.
If you want to have a fully customizable online store, perhaps you should consider opting for an open-source platform like WooCommerce or PrestaShop.
Logistic functionality of the platform
Order management is a boring task that nobody wants to take care of, neither the sellers nor the eCommerce platforms.
If you explore each of them, you will see that almost none provide a complete and professional tool for shipping and returns.
Although both Shopify and Squarespace have the basic functionalities to ship orders and manage returns, these aren't enough if you plan on offering the best customer service and implementing a flawless logistic system.
Now that you know the similarities and differences between Shopify vs. Squarespace, it's time for you to discover a tool that revolutionizes the way you manage orders.
Whichever platform you decide on, Outvio solves all those issues that these platforms leave unattended, providing a quality, professional service for you and your customers.
We hope that after reading this article you have no doubts about who wins the battle: Shopify vs. Squarespace. If you think that none of these platforms are what you are looking for, you can learn more about others such as Wix or Ecwid.