Inside this article
Read this comparison article to find out which eCommerce platform is better in 2022: Shopify vs Adobe Commerce.
These two platforms have very different advantages and disadvantages, so it's important that, before deciding on one of them, you consider all aspects of the platforms and how they may impact your business.
Platform overview
Shopify is one of the best-known platforms for creating and managing an online store. It's easy to use and it can be ready to sell in a matter of hours, but it also allows you to customize the store functionalities with templates, Shopify apps, and small custom code changes. However, it does have more limitations than Adobe Commerce in this regard.
Adobe Commerce is a platform that works under a self-hosted model. This means that your store can be fully customized depending on the needs and desires of both your customers and your business. Using Adobe Commerce for your online store means that you'll need to take care of the domain, server, and security system, among other things.
Both of these options come with a cost. Choosing Adobe Commerce will mean a permanent dependency on developers to make changes to and upgrade your store to be able to scale your business on Adobe Commerce without switching platforms.
Now that you have an overview of Shopify and Adobe Commerce, we'll share the main advantages and disadvantages of these eCommerce platforms as well as some key aspects to consider before choosing one or the other.
Shopify vs Adobe Commerce: which platform is better for an online store in 2022?
Advantages of Shopify
Shopify offers many advantages and useful tools when it comes to running an online store. For example:
Ease and speed of creation
Intuitive interface
Small customization tools (pre-built): Shopify apps and templates
Shopify is a consolidated tool, which means you can find information on the platform in several languages and forms (video, blog posts, etc.)
Advantages of Adobe Commerce
Using Adobe Commerce for your online store comes with many advantages. For instance:
You'll be able to scale your business on the same platform, avoiding migrations. Simply modify the code or install an extension and hire a more powerful server
Pre-built omnichannel tool (Order Management)
Free version (Magento Open Source). Although the paid version, Adobe Commerce offers more functionalities by default

In this comparative table, you can see a summary of the advantages that each platform has.
| Shopify | Adobe Commerce |
| --- | --- |
| Intuitive interface | Fully customizable |
| Easy and fast to create | Ease of scaling |
| Many online resources to use the platform | Community of developers to outsource services |
| Over 6000 Shopify apps | Over 4,000 extensions |
| Hosted solution, ready to sell within hours | Full control of your online store |
Disadvantages of Shopify
Shopify also has some downsides. For example:
You'll need to pay a transaction fee to the platform whenever you use a different payment gateway than Shopify Payments
Limited customization tools. You can only choose templates, do minor code modifications, or install Shopify apps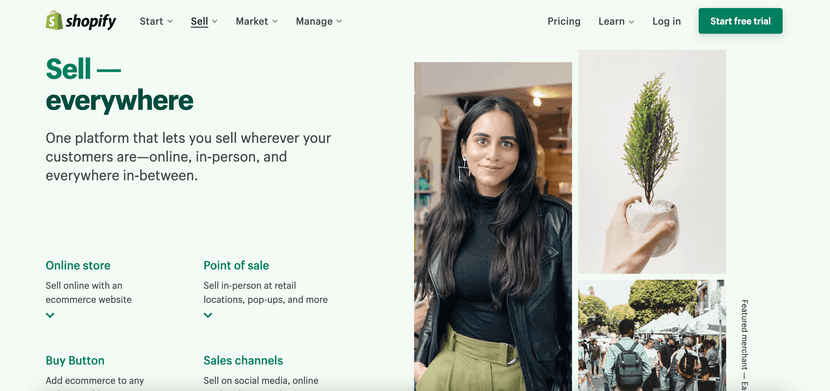 Shopify mainly caters to small-to-medium-sized online stores with its Basic Plan ($29 USD/month), the Shopify Plan ($79 USD/month), and the Advanced Shopify Plan ($299 USD/month). If you want, you can check out the functionalities they include in the table below. Additionally, you can use Shopify Plus, once your business grows.
Basic Shopify

Shopify

Advanced Shopify

Premium customer support

Premium

customer support

Premium

customer support
Online store

Online store

Online store

Sales channels

Sales channels

Sales channels

Free SSL certificate
Free SSL certificate

Free SSL certificate

2 user accounts

5 user accounts

15 user accounts

Up to 4 store locations

Up to 5 store locations

Up to 8 store locations

-

Standard reports

Advanced reports
Disadvantages of Adobe Commerce
Using Adobe Commerce also has some drawbacks:
Unless you know exactly how much traffic your store will get, managing traffic fluctuations will affect the loading speed of your website and may even cause it to fail. To avoid this, you'll need a powerful enough server that, at the same time, doesn't waste your resources
It's a platform where it's difficult and costly to build an online store. Additionally, maintaining a store on Adobe Commerce also comes with costs
You'll need to consider that this is a complex platform that may be difficult to use. This should be considered if you plan on having employees that aren't particularly skilled when it comes to coding
In this comparison table, you can see a summary of the disadvantages that each platform has.
| Shopify | Adobe Commerce |
| --- | --- |
| Monthly subscription | You are in charge of the server, security, and updates |
| Transaction fees | Complex platform to use |
| Limited customization | The creation and maintenance are resource-intensive |
Now that you have an overview of these platforms, it would be worth taking a look at these other important aspects when choosing an eCommerce platform for your business.
Cost of creation and maintenance
If the cost of creating and maintaining your online store is important to you, pay special attention to this section.
Creating an online store on Shopify means paying a monthly or annual subscription, but not having to be worried about uptime, security and other issues that may affect costs.
Using Adobe Commerce means you need to take care of the domain and server, plus all costs associated with creating and maintaining a store on this platform.
Having said this, anyone can open a store on Shopify, but not everyone has the knowledge or resources to open a store with Adobe Commerce. Upgrading your store on Shopify means acquiring a higher plan or installing Shopify apps, while on Adobe Commerce, almost every change has to be made by someone somewhat knowledgeable about coding or Adobe Commerce. 
Ease of use of the platform
Shopify as a platform is much easier to use since it's designed for online stores of different sizes, even for sellers that are just starting out.
Adobe Commerce, on the other hand, is a complex platform to use, even for eCommerce experts. Although you can certainly hire people who are capable of using Adobe Commerce to its full potential, you should really consider if choosing such a complex platform can negatively impact how your team performs.
If you don't mind investing time in educating your team on how to use the platform, you can take a look at other important criteria such as the level of scalability provided by Adobe Commerce and Shopify, or the customization tools offered by these platforms.
Scalability for your online store
Shopify has four professional subscription plans with different features. Of course, the higher the plan you choose, the more and better features you'll have.
However, if you prefer to customize and upgrade your online store yourself, you can open your online store directly in Adobe Commerce and modify your online store as it grows. Keep in mind that this process won't be as quick as upgrading your plan on Shopify.
Migration possibilities
Both Adobe Commerce and Shopify are prepared to ease the process of migrating all your store data to another eCommerce platform.
If you decide on one and take into consideration all the advantages and disadvantages of each one and the key criteria that we break down, it's likely that you will only have to modify your online store to adapt to new needs that arise.
At the end of the day, migrations —moving your online store from one platform to another— are time-consuming and resource-intensive, so it's recommended to avoid this process as much as possible.
Customization tools
Adobe Commerce is a platform that offers unlimited customization tools. You can set up your online store according to your needs and preferences, as well as your customers'.
Shopify, on the other hand, while allowing certain modifications, is very limited. You can only install Shopify apps or pre-built templates that will give you attractive and professional results, but it wouldn't be a store fully created based on your criteria.
Logistics management
Most eCommerce platforms provide very limited tools for logistics, fulfillment, and other post-sales tasks. If you want to manage your orders, shipments and returns in a resource-efficient and professional manner, you'll need to install an Adobe Commerce extension or a Shopify app.
Outvio has the solution for you: reduce the workload in customer support, improve customer satisfaction, automate and optimize fulfillment, shipping and returns, and obtain advanced metrics about your business and marketing tools to build loyalty.
Conclusions
Now that you know everything that differentiates Shopify from Adobe Commerce, it's time for you to integrate your online store with Outvio and take your business to the next level.
If neither Shopify or Adobe Commerce seems to be exactly what you are looking for, perhaps a self-hosted solution like PrestaShop is a nice middle-ground to what you need for your online store.