Inside this article
The eCommerce industry is an ever-evolving world where new terms, processes, and documents are created and transformed almost on a daily basis.
Today, we focus on the return process and some of the terminology you may have heard but not fully understood, like RMA numbers or RMA forms. Read below to find out what they are and how the RMA process works.
What is an RMA number?
RMA numbers are reference numbers that are linked to a specific product to ease the return process.
RMA numbers work as an authorization from the seller, to allow customers to return products.
These identification numbers can be created in the RMA process to ease the management of returns for both the customer and the seller.
What does RMA stand for?
RMA stands for return merchandise authorization. "Return authorization" (RA) and "return goods authorization" (RGA) are alternative terms that refer to the same process of authorizing the return of a product.
How to use RMA numbers: Processes
Whenever a buyer needs to engage in the return process, the seller will issue an RMA number. This is a key moment in the reverse logistics process.
Not all businesses decide to provide this RMA number and, while some prefer to create these identificators once the buyer has requested a return, some decide to deliver RMA numbers together with the physical product.
RMA numbers can be used as an opportunity to discover the reasons behind returns. They can also be used to correct or perfect products and the way you market them.
Returns are a costly part of any eCommerce business and an inconvenience for the buyer. There may often be regrets when buying something online, but avoiding and preventing returns is a smart move if they are happening for a reason under your control.
However, filling out an RMA form is an outdated practice and, regardless of how many returns your online store processes, easing the process is an effective way to transform returns into a competitive advantage for your business.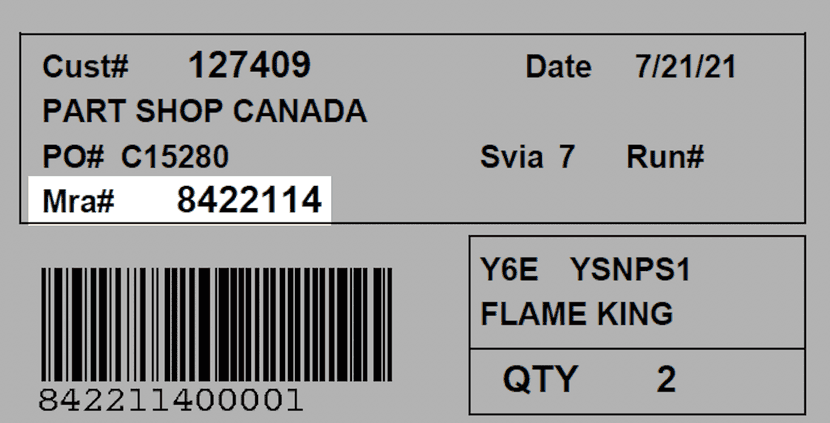 You can use RMA numbers for this or streamline your post-checkout operations with a platform like Outvio.
With Outvio, you can create a return portal that automates the process of managing a return for both the buyer and the online store, enabling customers to process a return in just 4 steps
Why RMA numbers matter
RMA numbers can be used to control the return process of an online store. However, making your customers fill out an RMA form is an outdated practice that can harm your business.
All the big players in the eCommerce industry have seen the potential in RMA numbers and the control & automation they provide. This is the reason why they are so important to many businesses.
However, if you are fully invested in growing your eCommerce business, having a return portal that eases the process for your customers (while providing you with details on why & automating tasks) is the way to go!
Create a fully-branded return portal and automate the return process with Outvio