Inside this article
Product pages can be an effective tool to promote product features and potential sales.
However, incomplete product pages that don't include the essential elements —such as product information, images, videos or SEO (Search Engine Optimization)— can have negative consequences for your business. They can result in low rankings in the SERP and a poor user experience for your customers, leading to product exchanges and returns instead of cross-sales.
Sometimes, your customers may see incomplete product pages and opt to visit your competitors' stores instead, increasing the bounce rate.
Creating simple and clear product pages that provide the customer with everything they need to know is essential to achieving the ultimate goal of any online store: to sell products and retain customers.
Product pages are a fundamental element of any online store because you can't market any item without them. Regardless of the size of your eCommerce business or your sales volume, you need to have product pages.
What is a product page?
A product page is a web page with all the information that the customer may need to make an online purchase. It works as a showcase and an assistant, helping the buyer to make a decision.
Its function is simple: to increase the chances of selling and improve the UX and shopping process.
Product page design
To create the best product page, you must take into account that the design needs to be attractive and informative. Describe your product, add customer reviews, include photos and videos of the product in action, show the benefits of using it and provide information that promotes sales (return policy, delivery times, discounts or the number of products available).
Just as important as the UX is what Google thinks about your product pages. Include elements to improve the SEO positioning of your online store. Many buyers won't arrive at your products through your home page, but rather through a search on Google.
Product page layout
Name: Choose the best title
The name is likely to be one of the first things the buyer sees, so it should give sufficient details without being too long.
Include the keywords in the name by, for example, writing "straight black linen pants" instead of "pants 5689." The former option is more attractive in terms of SEO and user experience. Basically, we recommend thinking about what a user would type into Google to get to your item.
Product features: Create the best description
Along with the title and images, the description is the biggest source of information for buyers.
When creating a description of your products, remember the two main objectives of the product page: to position yourself in search engines and to sell.
Use language that is aligned with your target and include the information that your buyer persona would expect to find. If you sell to businesses, they will prefer technical information, while if you are a B2C, you should emphasize the benefits of using the product, your competitive advantage and how it will make the user feel.
Try to convey as much information as possible in a clear way and use the keywords that best represent the product.
Price: Nothing beats a good discount!
Price is the first thing most consumers look for. It may seem obvious, but some online stores don't include the price of the item on the product page.
We advise you to display the price in a clear way and in a very visible spot. Include the VAT in the final price, just as you would in a brick-and-mortar store.
Another element related to price is the shipping cost. In fact, this is one of the main causes of cart abandonment. Therefore, it's important to try to reduce these costs as much as possible or even offer free shipping.
If you opt for free shipping, not only will it increase the number of sales but also the average order value.
Extra tip: Offer discounts, including the percentage, the old price (crossed out) and the new price.
Visual content: Images and videos
The Internet is a visual place. For this reason, including photographs and videos in the product file will help you at the SEO level. Multimedia content improves the user experience since it helps them determine what the product looks like physically or how it works.
To create the best product images:
Prioritize quality (lighting, focus, accurate colors)
Show the product from all perspectives; extra points if you provide a zoom tool
Capture the details of the product (texture, material, logo) and compare its size to an everyday object, if necessary
Use models to show how it's used or how it looks when in use
Depending on the type of product, you can include or exclude guidelines to provide the information the customer expects to find.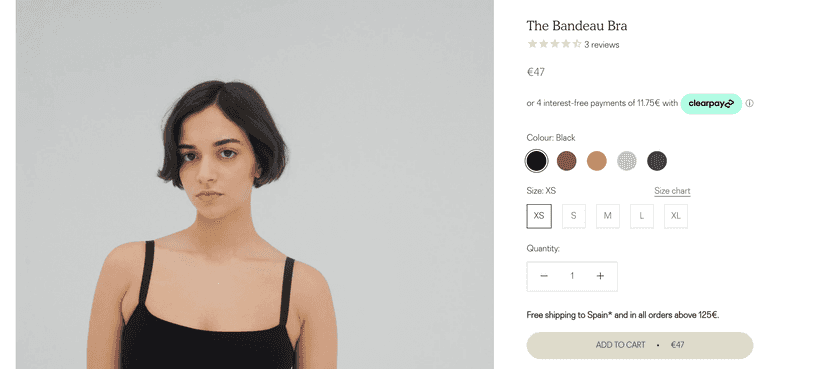 Source: Nudethelabel
But why limit yourself to motionless content?
Create videos and host them on a video platform to speed up the loading time of your online store. Use videos to show how the product works or how it looks on the model.
Videos on product pages can increase the conversion rate between 6% and 30%.
Don't forget SEO: Traffic that brings you customers
SEO can be your best friend or your worst enemy. Creating SEO-optimized product pages will increase the visibility of your products and your online store, but you'll need to include or modify some elements in order to get it right.
For instance, use long-tail (more specific) keywords to attract highly targeted traffic. In our pants example, that means calling them "straight black linen pants" instead of just "straight pants." In this way, you may receive fewer buyers, but it will a) be easier for you to appear higher in the SERP and b) increase the conversion rate, since you will be offering exactly what the customer is looking for.
These keywords must appear in the H1 tags, the product description, the alt title of the images, the URL of the product file, and so on.
If you also put some effort into link building, you will enhance the usability of your website and Google will reward your online store with more visibility.
Just as important as creating a network of internal links is ensuring that your store is organized. To achieve this, classify all your products into categories. Don't forget that these categories and subcategories must also be keywords.
An organized product catalog helps your customers find products more easily and helps Google index the content on your website.
Keep in mind that most consumers nowadays visit websites from a mobile device. This makes having a mobile-friendly online store vital to increase mobile conversion and rank well in search engines. Google takes into account the performance of your website in its desktop and mobile versions to assess your website responsiveness.
Promote sales with cross-selling and upselling strategies
One of the most effective ways to increase average order value is to create cross-selling and upselling strategies.
If you sell a shirt, for example, you can suggest purchasing a necklace to go with it (cross-selling) and slightly increase the order total; or a pair of trousers, which will considerably increase the value of the order (upselling).
Sell more products while providing your customers with lower shipping rates or free shipping.
Include customers' reviews: Use the power of social proof
Buyers that are unfamiliar with your product or brand will look for opinions and competitors on the internet. Reading other users' opinions works as social proof and encourages —or keeps away— hesitant customers.
Include customers' reviews and manage opinions, positive or negative, to strengthen your brand image and increase the reputation of your eCommerce business.
Social media: Connect other platforms
Use social networks to promote your products, the issues they solve and how they positively impact the lives of your customers.
Create a message according to the values of your brand and your buyer persona to create a sense of community around your online store and generate more engagement.
Facebook, Pinterest, Instagram and Twitter are just a few options.
Additionally, you can use the "store" feature of many of these platforms to showcase your products and connect them to your eCommerce platform to redirect the buyer to the payment gateway and increase the conversion rate.
Other key elements to include
1. Return policy
A clear and visible return policy is key to boosting sales. One of the first things that users do when purchasing online is to check the conditions for returns and exchanges. If they don't like them, or they can't find them, you'll lose many sales.
After all, the online buyer is no different from the traditional buyer in this regard; they want at least the same or even more possibilities to return or exchange a product.
2. Delivery times
Let your customers know when they will receive their orders by including a field near the buy button with the estimated date of arrival of the package.
This will benefit you as long as you work with the best couriers and can offer fast deliveries.
3. Size guides
If your products are sold in different sizes, include a size guide to reduce the number of exchanges and returns and create a more satisfying shopping experience for your customers.
4. Availability (stock)
Automate a message that notifies interested customers of the availability of a product to create a feeling of scarcity and increase impulse sales. If the product isn't available, you can enable an option for the customer to receive an email notification when it's back in stock.
5. And the buy button, obviously!
Obviously, if your goal is to sell, you need a buy button.
Choose a design that stands out from the rest of the product page. If your product has variants of size, color or any other attribute, make it easy to select the preferred options.
Tip: Create a pop-up that notifies customers when a product has been added to the basket and create a section where they can see the total value of the order, the number of items and how much they need to spend to qualify for free shipping. The user will then stay in the shopping stage for longer, increasing the chances of making new purchases.
Wrapping up
Now you know what information to include on the product page as well as which elements are essential for SEO and the user. Get the most out of your product pages and see how quickly the number of shipments increases!
If you're tired of dealing with repetitive tasks that need your attention but could be easily automated and optimized, use Outvio and invest that precious time into other more beneficial tasks.