Inside this article
To migrate, or not to migrate, that is the question. And we will help you solve it. If you still aren't sure whether to migrate from WooCommerce to Shopify, or to stay with another eCommerce platform you're already using, this article is for you.
WooCommerce offers many benefits for online stores at a reasonable cost. However, all eCommerce platforms have their advantages and disadvantages, and the choice of one or the other depends more on your needs, preferences and expectations than on the cost of the platform.
Most of these platforms are consolidated tools that have been proven to be effective, WooCommerce is one of the favorites in the market, but just because it's popular doesn't mean it's the best option for your business. Shopify might be much better for you and your customers. Find out if this is the case for your online store, by reading the article. 
Problems you may be having with WooCommerce
Before you decide to migrate from WooCommerce to Shopify, you should objectively consider the main problems of WooCommerce.
Fees. When you use WooCommerce's payment gateway, you need to pay fees. In the case of Shopify, you'll pay these fees only if you don't use the Shopify payment gateway. In any case, the fees you have to pay are quite similar, so it's just a matter of looking for payment gateways in the WooCommerce Extensions Store or choosing to move to Shopify and use their payment gateway.
Plugins. WooCommerce has a community of developers that share plugins to improve the functionality of your online store. Many of these are available for free. However, solely relying on plugins for the growth of your online store can mean compatibility problems in the long run and slow loading speed. If you're looking for additional features, Shopify offers its own Shopify Apps in the App Store.
Technical knowledge required. If you're not using the customization features available in the WooCommerce platform, these more-technical options can technical side of WooCommerce can end up being more of an inconvenience than a blessing be an inconvenience that reports you 0 benefits. In Shopify, there aren't many customization possibilities; it's only possible to download apps, install a template or make small changes to the code.
Advantages of Shopify
Now that we've covered some of the problems you might be facing with WooCommerce, let's see what you might gain from making the switch to Shopify.
Shopify is easy to use. Regardless of your team's background and whether or not they're used to using eCommerce platforms, Shopify is very intuitive.
Shopify has customizable, pre-configured templates and themes for different devices, types of retail, needs, preferences, etc.
Scalability. Scaling a business on Shopify is easier and faster than on WooCommerce since you'll only need to upgrade your plan over time. As your business grows in WooCommerce, on the other hand, you'll need to make a series of modifications that translate to time and costs.
Disadvantages of migrating to Shopify
However, as we pointed out earlier, all platforms have their disadvantages — and Shopify is no exception. Depending on the type of business you have, your priorities will vary, and there may be some aspects of Shopify that aren't ideal for your business.
Generally speaking, the lack of customization is one of the main disadvantages of Shopify. In WooCommerce, you can fully customize your online store to have the functionalities and aesthetics you want and need. If that's a feature you consider essential, then Shopify may not be right for you.
For a more in-depth look at the two platforms, read our comparison on WooCommerce and Shopify.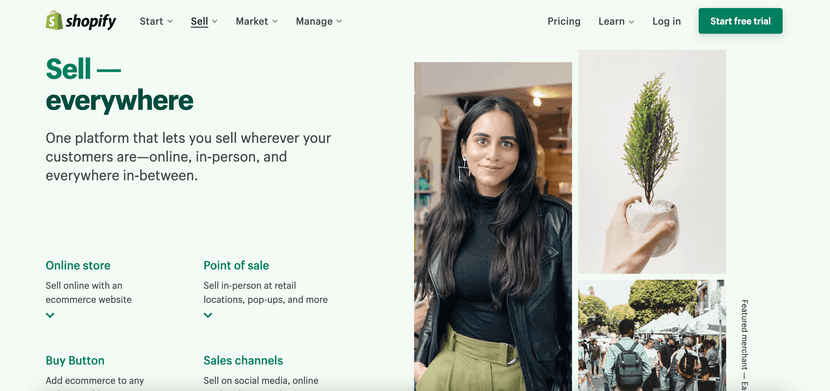 How much does it cost to migrate from WooCommerce to Shopify through an extension?
The cost of migrating from WooCommerce to Shopify through an extension varies depending on the number of customers, products and orders processed in your online store.
We have found an estimated cost of €60 for migrating an online store with 100 products, 100 customers and 100 orders through LitExtension. If you want to estimate the specific cost for your case, you can use the Pricing Estimator on the LitExtension website.
How much does it cost to migrate from WooCommerce to Shopify through a professional?
The price of migrating with an expert also varies depending on the amount of data you want to move to Shopify and how quickly you want the migration to be completed.
You can find migration experts who offer migrations to Shopify in two days, with two reviews included in the price, for around €50.
How long does it take to migrate a store?
Migrations can be very fast or very slow depending on the way you choose to approach it — through an extension or through a professional. The estimated time depends on the size of the online store, and it can vary from a few days to weeks or even months.
Tips for migrating from WooCommerce to Shopify
Use migrations to your benefit with these tips:
Offer a discount or special offer once the new store has been launched. This will give even the most reluctant customers an excuse to explore the new store and make a purchase.
Promote your new style. An intuitive and original design will differentiate your store from your competitors and have a positive impact on sales.
Announce the new store on your webpage, social media and newsletters with banners, ads and other communications that explain some of the most attractive features of the new layout. By doing so, you can transform a nuisance into something beneficial.
Precautions
Even once you've made the tough decision of which platform to switch to, you're not in the clear just yet. There are several important factors to consider when it comes to the migration itself. For instance:
Think about the security of the data of your online store and your customers
Use professionals to do the migration
Have a backup of all information
Before you migrate from WooCommerce to Shopify, think about the benefits it will bring in the long run, as the migration may not be the top priority for your online store right now.
For instance, if you value the customization features available with WooCommerce, you need to consider the impact of switching to Shopify.
On the other hand, using Shopify can mean fewer problems related to the creation or installation of plugins or the management of certain tasks, like shipping, tracking and customer communication. All of this can be solved with Shopify, where adding new functionalities simply requires the installation of Shopify apps like Outvio. This post-sales app is dedicated to optimizing and automating dozens of tasks for online stores: from shipping to tracking, returns, customer communication, email marketing and more!
Conclusions
We hope that this review of the platforms gives you a clearer idea of the advantages and disadvantages of WooCommerce and Shopify. Hopefully, you're now more clear on whether to migrate from WooCommerce to Shopify or not.
Remember that, regardless of the CMS you choose, Outvio allows you to connect your online store to our post-checkout platform to automate and streamline dozens of process, from fulfillment to shipping, tracking, returns and customer support —while providing marketing tools to personalize and improve customer communication and reducing eCommerce costs.