Inside this article
If you have arrived at this article, you probably already have an online store and it's been a successful journey for you, but there are some aspects of your platform that limit you, or that you would generally like to change.
If you want to migrate from Magento to Shopify and solve all the issues you face on this platform, keep reading to see what you would gain (and lose) with the migration.
Problems you may be having with Magento
Magento is a platform full of advantages. However, these advantages entail more responsibilities and costs for the online shop, like the implementation of patches or software updates.
Another problem that you may be having is the management of the server and the traffic you receive on your website. If you deal with server changes yourself, it can be hard to control the availability of the online store, putting your sales at risk. This is common for Magento users that don't leave this aspect in the hands of professional companies, or Magento itself.
Well, Shopify solves this problem, as well as others, but we'll talk about this below.
However, before you rush to migrate from Magento to Shopify, we suggest you read this article to discover the advantages and disadvantages of both platforms, and some consequences of migrating your online store from Magento to Shopify.
Advantages of migrating to Shopify
As we have already anticipated, migrating your store to Shopify has its advantages. For example:
You don't have to worry about servers and traffic changes. Shopify takes care of the server and includes this cost in the subscription you choose
The implementation of new functionalities can be easily done by upgrading your Shopify plan or installing a Shopify app
Creating an online store on Shopify is fast and easy. Shopify is a ready-to-use platform, which means that you'll only need to set up the shop to your taste and include your business products and information to start selling
The intuitive interface is especially useful if you work with a team that isn't specialized in eCommerce platforms, since getting used to Shopify is a fairly quick process
Security and software updates are included in the price. This means that you won't have to worry about possible cyberattacks or platform maintenance
You can select from attractive, intuitive, and responsive designs that are pre-configured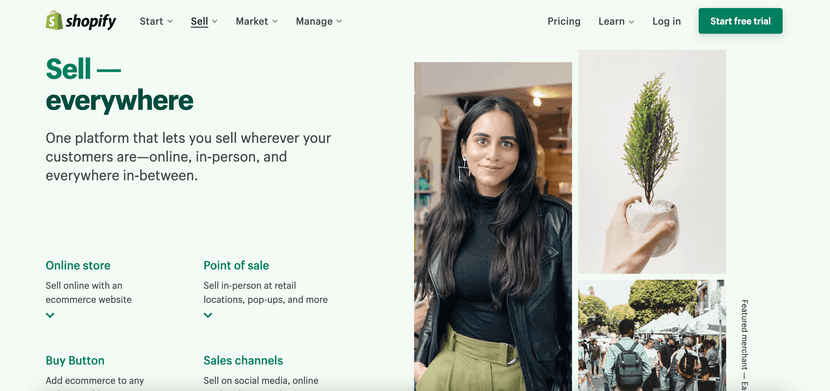 Disadvantages of migrating from Magento to Shopify
Selling on Shopify also has its downsides. These are the main ones:
Fewer possibilities for customization. Magento is an open-source software, which means that you can create an online store that meets all your requirements and preferences. On Shopify, this isn't possible since you have to adapt your store to the structure that the platform provides, its templates, apps, and so on
Commission fees. Shopify, like many other hosted platforms, charges transaction fees. Both smaller and larger retailers can afford these fees, but you may not want to pay them
If you want to know more about the advantages and disadvantages of Magento and Shopify, you can read our comparison of both platforms.
How much does it cost to migrate from Magento to Shopify?
This service can be easily found on the internet for different prices. The cost for migrating from Magento to Shopify will depend on the complexity of your online store, the number of products you have, your customers' database, and any other information and customized functionality that you may have developed. As an approximation, prepare to pay from a few hundred to thousands of dollars.
When it comes to choosing a business or professional to carry out the migration, it's essential to consider their trust and experience to avoid an unpleasant experience.
How long does it take to migrate from Magento to Shopify?
The period needed for a migration varies depending on the amount of data that will need to be migrated. If your online store is large, it can take from a few days to weeks or even months.
Data migration risks:
What can you lose?
This is one of the main worries any online seller may have when it comes to migrating from Magento to Shopify.
Migrating is a difficult process in which you can lose all the data of your online store (customer database, metrics, and product catalog, among many other things).
Customers' reaction: make the transition easier with these tips
Put yourself in the shoes of the customer. You are used to a specific web page with a specific aesthetic and interface. You go to your favorite store and everything is different.
The quick and impulsive purchase that could be done in 5 minutes is now going to take you longer, and so you leave it for later. Unless you definitively need something, you may forget it forever.
Since we want to avoid this situation as much as possible, we'll give you some tips to make the transition easier on your customers:
Create a welcome message. Welcome your customers to the new website and promote the change with a banner at the top of your online store. You can also create pop-ups to guide customers through the purchase process or add a video to show how they can make a purchase on the new website.
Keep it simple. Keep the design as simple as possible; nobody likes a difficult checkout process. Be creative and bold, but don't forget about the ultimate goal of online stores: to sell. By facilitating it, your sales can only increase.
Offer a discount code. The old trick of a discount never fails, and may be just the little push your customers need to stay on your website and potentially buy. They will browse your catalog and visit product pages. They may even add some products to their cart and go on to buy. Collect all this data and study how the migration has affected your business and any possible improvements you can implement to provide a better user experience.
Precautionary measures
Changing the eCommerce platform of your online store is a process that doesn't only affect you. Therefore, making sure that you want to end your relationship with Magento before migrating to Shopify is fundamental to avoiding unnecessary costs and losing sales and customers
If you are determined to migrate, we recommend looking for a responsible and experienced agency that offers guarantees and complies with
GDPR. The last thing you'd want is to put information as valuable as your business and customer data in the hands of anyone
Online store migrations always pose a risk of data loss. Therefore, even if you trust a professional to do the migration from Magento to Shopify, you should have a backup of the data
Final advice 
If migrating from Magento to Shopify isn't a necessity, we advise you to think about how all the advantages and disadvantages of Shopify will affect your online store growth in the long term.
This is especially advisable if you currently enjoy all customization possibilities of Magento, since this is not possible with Shopify, even on its Plus plan.

On the other hand, if one of your most frequent problems is server and traffic management, you'll be calmer once you switch to Shopify. The guaranteed uptime of Shopify is 99.99%, which means that your store will be available under almost any circumstance.
If you have a particular aversion to fees, we suggest thinking about the costs of moving your entire online store to Magento. Migrating purely because of the fees doesn't make sense if you consider the cost and time needed to switch your eCommerce platform.
Now you have a clearer idea of ​​what you gain and what you lose by migrating your store from Magento to Shopify, the risks involved in migration, and, ultimately, whether the change is worth it or not.
Choose the best platform for your online business and take it to the next level with Outvio. This post-sales platform for online stores is focused on growth and customer loyalty.