Inside this article
In today's competitive landscape, knowing how to request for customer reviews from the right people at the right time is more crucial than ever.
Positive reviews provide a more concrete and trustworthy representation of your business, fostering a climate of openness and credibility. Integrating these reviews into your website enhances customer confidence, ultimately leading to increased sales and conversions.
In fact, one of the main reasons why many stores don't sell as much as they could is precisely lack of trust.
To reap the benefits of customer reviews, mastering the art of requesting them is indispensable. In this comprehensive guide, you'll discover:
Effective strategies to build trust with your potential customers
Techniques for getting positive and high-quality reviews
Common mistakes to avoid when requesting for reviews
How to leverage reviews for your own benefit
The latest technology for acquiring reviews: Outvio's Review Booster
Requesting Customer Reviews is More Important Than You Think
The current online retail market is oversaturated. Customers need fast and trustworthy confirmation that they're in the right shop. That's where positive customer reviews come in. Who hasn't consulted Amazon reviews before making a purchase?
According to the numbers, nearly 50% of adult customers decide whether to buy a product based on the opinions of others. And it's not just a matter of trust, but of tangible results: product listings with positive reviews can triple sales rates.
Here are some benefits of requesting customer reviews:
Increased credibility: A store with multiple positive reviews inspires confidence, which translates directly into an increase in conversions.
Increased average order value: Consumers are willing to pay more for a product that is backed by positive and detailed reviews.
Improved customer experience: Offering customers the opportunity to leave a review strengthens the customer relationship and contributes to a healthy and positive shopping experience.
Helps to improve: Reviews are a valuable source of information. Through them, you can identify areas for improvement, resolve issues with your product, and better understand your customers' behavior.
In short, eCommerce businesses that take it seriously and know how to request a customer for a review experience a strengthened brand image, improved customer relationships, and achieve higher conversion rates.
Do all customer reviews have the same value?
Not all customer reviews are created equal, and they don't always have the same impact. It's important that testimonials provide detailed information about the product in question. This will make them more believable and have a greater effect on the buying decision of the people who read them. Also, keep in mind that consumers are becoming increasingly educated about online shopping and can easily recognize fake reviews.
Let's look at an example of a high-quality review. Why is it so effective?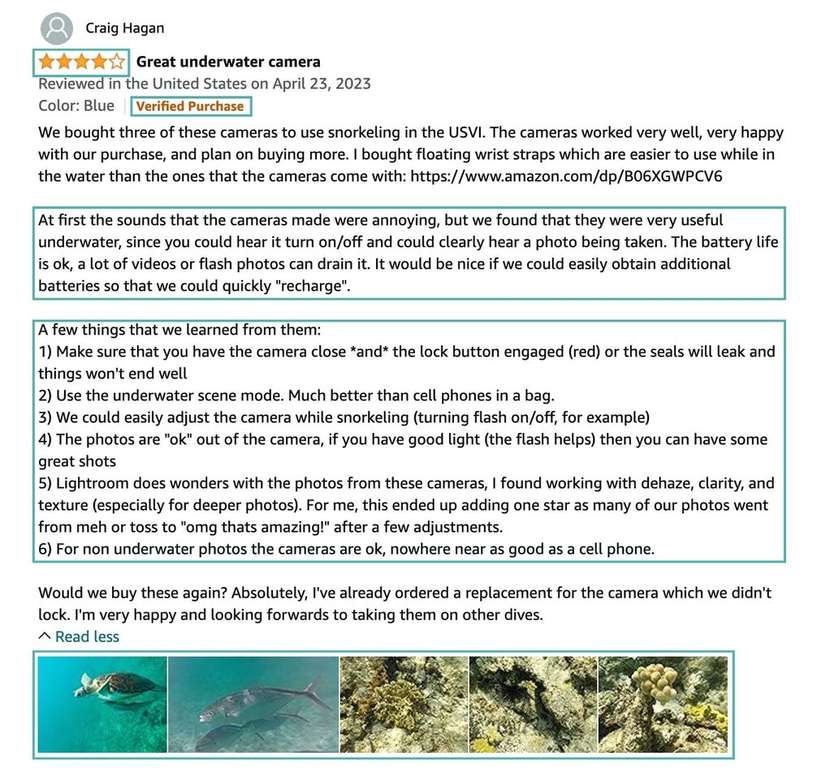 Quality. The review is well-written and provides detailed and relevant information. It also has a very personal point of view, which increases its credibility.
Honesty and balance. The review should highlight the positive aspects of the product or service, but also the negative aspects. This will help readers make an informed decision. It is also a sign of veracity.
Images. Images help readers visualize the product or service and get a clearer idea of it. In this case, they are photographs that the buyer took with the camera in question.
Not five stars. Believe it or not, four- or three-star reviews are more believable than five-star reviews. This is because five-star reviews are often too positive and, therefore, may seem fake.
Verified purchase. Reviews should be backed by real purchases. The verified label tells us that the person who wrote it had to pass certain filters. These reviews have a greater impact.
If you want your reviews to help you sell, they will need to be real and come from truly satisfied customers. That's why we recommend using a professional method to collect them, such as Outvio's Review Booster system.
How to request for reviews from your customers, and succeed!
The following tips will increase the chances of your customers leaving positive reviews or feedback about your business:
1. Choose the right formats and channels
The first step is to decide how you want to request customers for reviews. You can do this through email, social media, or even in person.
Email and notifications
Email is a traditional and effective way to request for reviews. You can send an email to your customers after they have made a purchase or received a service. Other very effective channels are sending SMS or WhatsApp. Remember that with Outvio's personalized notifications, you can get quality reviews automatically and effortlessly.
Social media
Social media is another effective way to request for reviews from customers. You can post a message on your Facebook, Twitter, or Instagram page inviting customers to leave their feedback. Make sure to use a relevant hashtag so customers can easily find your post.
In person
In some cases, it may be beneficial to request customers for reviews in person. For example, if you have a physical store, you can request customers to leave their feedback on a review form or to fill out a satisfaction survey.
2. Be concise and polite
Avoid long messages and unnecessary explanations. Instead, opt for a more direct approach. Explain briefly why you are requesting for reviews and how they can do it. It is also important to be polite and grateful. Remember that customers are doing you a favor by leaving a review.
Start with a friendly and personal greeting. For example, you can say, "Hi [customer name]," or "Dear [customer name]."
Explain briefly why you are requesting for reviews. You can say something like, "Your feedback is important to us. It helps us improve our products and services."
Provide a simple link or form for customers to leave reviews.
End with a thank you. You can say something like, "Thank you for your time and consideration.
3. Use a call to action (CTA)
Make it easy for customers to respond to your review request by using a call to action (CTA). Add it in a visible location within the email. Use a color that will grab the customer's attention and guide them towards the survey.
Effectiveness lies in brevity and clarity. Choose a direct message, such as "Start survey," so that the customer understands immediately what will happen after clicking.
4. Identify the best time to request the review
The timing of when you request the review from your customer can affect their willingness to respond. It is essential that the request does not arrive before the purchase itself. Several studies indicate that the 7- to 30-day period after delivery is optimal for requesting positive reviews.
If it is a frequently used product, such as a mobile phone, it is best to request the review before the customer has had it for too long. Conversely, if it is an occasional use product you can wait longer to request the review.
5. Simplify the process for your customer
Customers are more likely to leave reviews if the process is quick and easy. Incorporate a star rating system in the request email that allows customers to give their feedback with a single click. They can also easily add comments and photos, which enriches the quality of the review.
6. Offer an incentive
Providing an incentive for reviews is an effective way to increase the chances of receiving them. Incentives can include discounts, promotions, free products, or even just a word of thanks.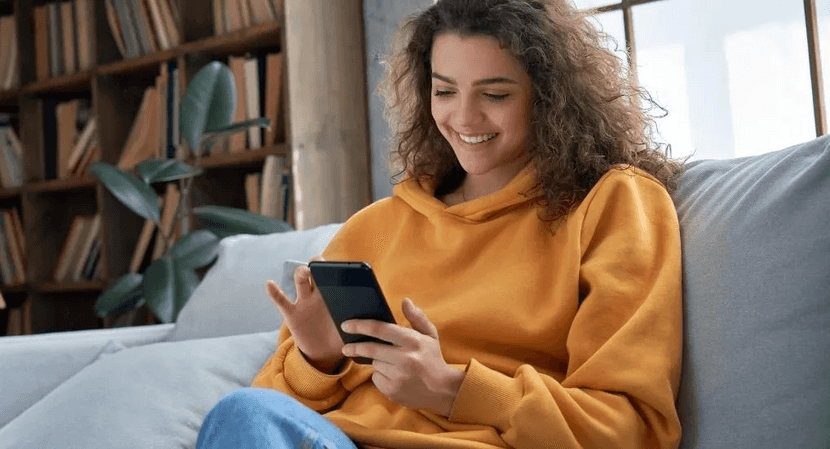 Common mistakes to avoid when requesting for customer reviews
Let's see how not to request for a review from customers. We have compiled some bad practices that are often repeated.
Forgetting to request for the review
Not focusing on the customer and asking questions that are only oriented towards yourself
Focusing on quantity and forgetting about quality. A very high number of anonymous reviews can be counterproductive
Being excessively insistent, to the point of being annoying
Not responding as soon as possible and in a professional manner to negative customer feedback
Creating fake reviews or buying them online
Adding reviews in a different language than that of our target customer
Obtaining reviews from a single source. It is important to diversify
Not acknowledging and thanking positive customer reviews
Phrases to request for customer reviews: examples and templates
If you're still wondering how to request for a customer review, you can create messages using the following templates for email, SMS, or social media:
Personalized and simple
Subject: [Customer name], we'd love your feedback!
Body:
Hi [customer name],
Thank you so much for shopping with us! We hope you enjoyed your recent purchase/service, and we'd love to hear your thoughts about it.
Your feedback is important to us, as it helps us to improve our products and services. We'd be grateful if you could take a few minutes to leave a review on [review site].
Thank you again for your business!
Incentivized
Subject: Get 10% off your next purchase - leave a review today!
Body:
Hi [customer name],
Thank you for your recent purchase/service. We hope you had a great experience, and we'd love to hear your thoughts about it.
As a thank-you for your feedback, we'd like to offer you 10% off your next purchase. Simply leave a review on [review site] and reply to this email to receive your discount.
Thank you again for your business!
I have the reviews, what do I do now?
It's not really about getting reviews, it's about maximizing their potential.
Once you have the testimonials, add them to key areas of your website, such as the homepage, the checkout process, or the product pages. Also consider creating videos featuring favorable customer testimonials, sharing them on social media as well to provide a more visual and compelling experience.
Specific tips
The most important reviews are the first ones. Users tend to focus on the first five reviews of each product or page. Make sure these reviews are positive and convincing.
Reviews with a rating of 4.2 to 4.5 generate the most conversions. Avoid highlighting overly positive reviews or those that do not seem credible.
Reviews should be adapted to the mobile version of your website. More and more people use their mobile devices to browse the internet. Make sure your reviews are visible and easy to read on mobile devices.
Positive reviews can be used as a remarketing technique. You can send abandoned cart messages with positive reviews from other customers who have purchased the same product or service.
Positive reviews of related products can be used as an upsell strategy. You can display positive reviews of related products within the checkout to encourage customers to buy more. You can also add them to your order notifications along with a promotion, the possibilities are endless!
Review Booster, the latest technology in review acquisition
In today's eCommerce world, knowing how to request for reviews from customers is essential. Positive testimonials provide online stores with an invaluable tool to build trust, improve visibility, and adapt their services to customer needs.
Outvio's Review Booster functionality is specifically designed to help you get the most out of your customer reviews and maximize your sales. This unique functionality detects your most satisfied customers, sending a personalized message at the perfect time. This way, in addition to getting reviews, you can make sure that they are all positive and provide the highest possible quality to your sales and acquisition processes.
Review Booster is used by leading eCommerce companies to effectively request reviews from their customers. You too can benefit from the latest technology in review acquisition. Switch to Outvio and let us help you boost your business.