Optimising e-Commerce logistics is the main challenge of those businesses that aim to be proficient in the way they manage their workflows. This is especially true if their success depends on offering a post-sale experience that is expected nowadays.
Contrary to popular belief, this does not only affect the big players. Small and medium-sized online shops are also held back by a poor logistic system. Many times, they are not even aware of this situation and simply believe that the growth of their e-Commerce is limited. This can be easily changed when an optimised logistic system is implemented.
If you know that you will be receiving more orders and you are willing to maximise your resources, you will find this guide on e-Commerce logistics very useful.
The importance of e-Commerce logistics
Let's start with the basics: to what extent should you invest in the e-Commerce logistics of your company? 
To answer this question, there is nothing easier than to take a look at the growth of electronic commerce in Europe between 2014 and 2021, according to Statista. The trend seems to keep growing and is foreseen to continue to bullish.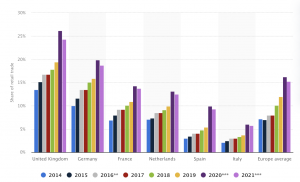 Source: Statista
The first conclusion that we can come to from this statistic is that consumers are already attracted to the online purchase model.
Something different happens with logistics. Although more resources are being invested in optimising workflows, not all e-Commerce and online shops are willing to confront this problem. These businesses seem to not have learned the lesson that Amazon taught us: customer satisfaction and e-Commerce logistics are closely related, or should be.
In any case, optimising your e-Commerce logistics will help you to achieve two fundamental aspects for your company: achieve a high-quality post-sales service and reduce costs.
Optimise the purchase process in e-Commerce
The purchasing experience should not be limited to the digital funnel. The new consumer habits have rendered more importance to the post-sales process, making it the most relevant in the shopping experience. One of the major advantages of having an efficient logistic system is precisely that the clients will always be satisfied with the service.
All the expectations and promises in relation to the shipment will be covered: short delivery times, lack of incidents, free shipping (or inexpensive), packages that arrive in mint condition, etc. On the other hand, holistic e-Commerce logistics will allow you to have a clearer vision of a business focused on the user.
Reduction of costs in e-Commerce
The second consequence that comes with improving the workflow is that the costs needed to reach your goals will become lower. Logistic costs entail between 20% and 40% of the value of the product. Reducing them means a great push for incrementing your profits. You could reduce the price of the product and increase the sales or maintain the same amount of sales with bigger margins.
Any strategy that is aimed at a reduction in logistic costs should be accompanied with:
A traceability plan for monitoring the results in real-time

An optimised management of the resources to detect unnecessary costs

A guarantee of the supply chain and the stock process' profitability

A strategic analysis of all steps in the logistic process

The implementation of an automatised post-sales service like Outvio 
Optimisable phases in e-Commerce logistics
Checkout
The first step to obtaining a better logistic system is to ease the checkout process for your clients. When this happens, a message will be sent to your warehouse and courier. Seems simple, right?
Now imagine that instead of one order, you receive, let's say, a hundred. And that all your clients choose next-day delivery. Here is where the problems show up.
Every e-Commerce that forecasts a higher volume of shipments should automatise the order management system and notifications to connect them with the warehouse.
Cart abandonment in the checkout process
The latest predictions seem to indicate that 7 in every 10 clients abandon their shopping cart in the checkout process. Moreover, the impact of these figures is directly proportional to the size of the e-Commerce, hence the importance of reducing the frictions that clients experience in the checkout.
In order to ensure a successful checkout strategy, we should analyse the reasons behind this cart abandonment. For that, we will rely on the data provided by the Baymard Institute. This study sheds light on this aspect, revealing high shipping costs and the obligation to create an account as the main reasons for checkout drop-out.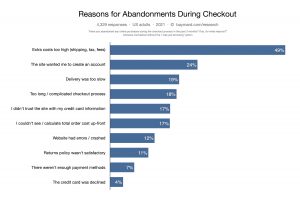 Have you realised that some of these frictions are caused by poor logistics? High shipping costs, unsatisfactory returns policy, or slow deliveries are ranking high in the graphic.
Generally speaking, when an e-Commerce does not offer free shipping it is because it lacks the capability of facing the costs. There can be two reasons behind this: its logistic system is not optimised or the relationship with the courier is not how it should.
e-Commerce warehouse
The driving force behind any e-Commerce is its warehouse. Many of the products' processes: receiving products, storing or packing them, among others, take place there. As simple as it may look, optimising a warehouse for more complex workflows requires knowledge and resources.
The minimal features that a proficient warehouse should have are:
Perfect integration in the supply chain

Precisely-planned restock and pick-up routes

Spatial optimisation (horizontal and vertical) 

A compact and dynamic warehouse system

Methods to detect and prevent problems in infrastructure and machinery

A scanning system that allows you to sort, monitor, and classify inventory in the warehouse
Below, we provide suggestions to optimise the warehouse logistics of a successful e-Commerce.
Receiving the products
Your response time to new orders will be defined by the frequency in which you receive the products, among other things. For the management of more orders, your supplier must also be committed. Synchronising your internal workflows and creating a provisions plan becomes fundamental.
To make the provisions plan adequate and aligned with your needs you have to take into consideration the nature of the products you sell as their location and order of departure may vary according to demand or seasonality. Moreover, you should reach an agreement with your supplier to find a balance between costs and efficiency. A rise in orders will necessarily mean a rise in how often you receive new products.
Stock
Any e-Commerce should have permanent control of the stock since the preparation and shipping process never ends. If you want to be in control of the stock, you will need to keep track of every item that enters and leaves the warehouse.
With a smart warehouse management system (WMS) this is easier. Inventory will always be localised and taken into account. This can only be achieved if the order management system and warehouse system are connected. Warehouse operators will be able to complete their tasks in a more diligent, autonomous and optimised way.
The next picture illustrates how an optimised warehouse management looks like: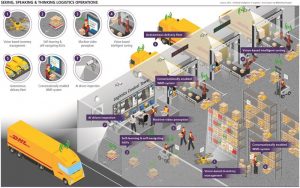 These tips will also help you to improve the management of the stock:
Get rid of obsolete items

Reduce times with machinery

Reduce lost spaces

Plan and monitor every count

Strategically place the items taking into account the departure order
Picking and packing
Picking and packing lists are two fundamental steps to optimise e-Commerce logistics, preparing orders faster. In addition to opting for self-assembly packages, it would be useful to automate the creation of picking and packing lists with a software tool.
These processes are inherent to all warehouses and closely related to costs and response times. Manual picking represents 60% of the time spent in a warehouse, as Kardex Remstar shares in this article on ways to reduce warehouse costs.
The Scan and Pack tool allows you to scan products using barcodes for its automatic categorisation and to create picking and packing lists, eliminating some of the manual tasks in the workflow. Thanks to this system, the chance for mistakes in labels will be virtually eliminated and your warehouse will work 45% faster.
e-Commerce shipments
Shipments are the most delicate step of e-Commerce logistics by far. Most likely, you rely on another company to send the parcels. This will require software that connects your workflow with the couriers' websites.
The final goal of this phase is to synchronise the preparation of the package with the arrival of the courier. For this you will need to control warehouse times, organise picking and packing lists, print shipping labels, commercial invoices, customs documents, weigh and measure the parcels, keep your clients informed of the status and location of the shipments, and manage any incident that may have occurred. 
All these tasks require a tool to automate processes and integrate several couriers in a single interface. If not, you will need to visit every courier's website for every shipment. This is a waste of time and money that can be easily avoided.
Shipping tracking
The tracking information is one of the aspects more demanded by clients when it comes to purchasing in an online shop since it allows them to know where it is and the status of the order.
Normally, when an order is processed, the courier will provide a tracking number or code. By going to the courier's portal and introducing the code, you and your client will be able to check the status and location of the parcel.
However, there is a problem with this system. The tracking has to be done from the couriers' webpage, and not yours. This is a problem for two reasons:
It can be a dreadful experience for the buyers, especially if they have more than one order.

All the traffic generated with your resources will end up on their website. This can affect brand trust and hold you back from growing overall.
Your task is to provide your clients with access to this tool and to integrate this portal into your website. This is especially important if you are trying to optimise your e-Commerce for higher volumes of sales and shipments. You should also consider the open rate for the emails that include this portal. Spoiler: it's high. Take advantage of the tool and include branding elements and special offers to directly increase the conversions.
Outvio's tracking portal is designed with this idea in mind. Any e-Commerce that uses this portal will be able to guarantee a real-time tracking service in any country of the world. In addition to this, you can customise it and include it in your website and emails. This will increase the overall sales of your online shop and drastically improve the satisfaction of your clients throughout the post-sales stage. Prepare yourself to receive that traffic that used to end up on the couriers' websites.
Return management in e-Commerce
e-Commerce returns are one of the tasks that more time and potential customers may steal from an online shop. In fact, returns are one of the key points customers pay attention to before making any purchase and this will continue in the coming years. This is reflected in the last study carried out by Deloitte on reverse logistics and user experience.
Having an appropriate return policy will not only mean a great competitive advantage for you, but it will also be a sine qua non condition on a reputational level.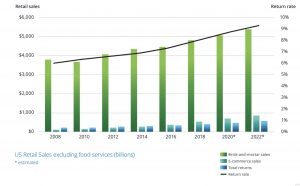 Any business that wants to align its post-sales service with the requirements of the clients should offer an attractive return policy. This entails high logistic costs. This is the reason why the optimisation of reverse logistics is one of the main worries for bigger-size online shops.
To achieve this reduction in costs, you will need to optimise the following elements from your e-Commerce:
Create a place in your warehouse dedicated to the management of returns

Implement a return system in a single interface to minimise the time needed 

Make sure the packaging protects the products during transportation

Include a return portal in your website to enable your clients to make their returns
Customer support in e-Commerce
Direct contact with the client has always been a key aspect of client retention in e-Commerce. Why?, you may be wondering. The perception of the brand improves for the buyer, creating new possibilities for future sales and clients.
Moreover, an efficient customer support department can save a great part of returns in e-Commerce. A common reason behind them tends to be the lack of communication between seller and buyer, hence the importance of it.
If you want to focus on customer support, you could start by implementing these rules and guidelines:
Listen to your clients

. If you provide additional channels for support, remember to check all of them and listen to your clients' problems. Partnering with e-Commerce logistic professionals will elevate the quality of this service.

Accompany the buyer throughout all the steps.

Doubts and problems can appear at any time, even when the purchase has already been done. In fact, the post-sales stage is when these questions seem to be more important. Satisfied clients can bring enormous benefits if you manage to retain them.
Gather useful information.

All channels can provide useful information to improve your products, marketing strategies, and other e-Commerce processes. If you invest resources to understand the problems and claims of your clients and solve them, quite possibly you will see how the return rate drops and the transportation costs improve.
Automatise customer support in the post-sales phases
One of the ways to reduce the number of unsatisfied clients is to keep them constantly informed.
The tracking portal is an element that can help in this regard. However, it requires active use. This is not always a step the clients are willing to take. If you automate email and SMS strategies, you will provide this information in a passive way.
Achieve an omnichannel e-Commerce logistics
Probably by now, you would have noticed which is the main obstacle in e-Commerce logistics: the connection between all its stages. Optimising every phase is relatively simple, but creating a smooth system is a different matter. For this, you need omnichannel e-Commerce logistics.
Having a holistic view is important, of course, but the main challenge goes beyond pure strategy: software that is able to unify the chain in a real and tangible way must be implemented.
Outvio can provide real traceability in all stages of e-Commerce logistics, making it as efficient as possible by:
Allowing smooth and fluid management of the notifications from checkout, regardless of where they come from

Providing a robust scanning system for products that automatically creates picking and packing lists

Automatically printing shipping labels and other necessary documents for the shipments

Unifying all your couriers under one interface and automating the selection according to shipping rules set by you

Automating the shipment and return to/from any country or warehouse

Reducing the incidents and raising customer satisfaction

Tracking and communicating anomalies in the shipments, automatically

Connecting your online shop with the couriers' support service
Looking forward to scaling your e-Commerce? Discover how Outvio radically improves the post-sale experience.