Inside this article
Nowadays, it is very likely that everyone is aware of the historical event that is Brexit (or as I like to call it: "The Historical Withdrawal"). It brings unique challenges to different parts of the economy. If you are struggling with eCommerce after Brexit, we offer five ways to deal with how Brexit impacts your eCommerce operations.
Since the 2016 referendum, Brexit has left the public and businesses on the brink of uncertainty with their never-ending deliberations in order to reach an agreement.
On February 1st 2020, the United Kingdom officially announced its exit from the European Union with a pre-negotiated Withdrawal Agreement between the parties, however, there was still so much to negotiate in terms of trade, business, legislation and migration to ensure that both will benefit from the outcome.
Hence, the transition period began (and during a very difficult period indeed #Coronavirus2020). As the deadline approached, the tension kept on rising, but finally, on the 24th December 2020…Good News: There is an Agreement! However, although there are positives in the agreement, there are some changes that will surely affect us. Keep on reading if you want to know what will happen to eCommerce after Brexit.
What will happen to eCommerce after Brexit?
It is not a surprise to know that the United Kingdom is one of the top eCommerce markets in the world. According to Statista, the UK is considered the most advanced eCommerce market in Europe, with British consumers spending over "200 billion euros on online purchases." 😱
On January 1st, 2021, the United Kingdom officially left the European Union. Therefore, the agreed rules during the Brexit negotiations will take immediate effect, impacting all trading activities between the UK and the EU. So you may be wondering what will happen to your eCommerce after Brexit…
Well, for the eCommerce sector, these new customs procedures impose a drastic change. Hence, it is crucial for all merchants to be aware of the measures in order to protect their business strategy when importing or exporting to the UK.
Customs Declaration
From 1st of January, despite any agreement between the UK and the EU, businesses who want to trade goods with the UK will be subject to customs formalities. You can provide a commercial or "pro-forma" invoice to customs with all the information about your shipment (invoices will need to be attached to your packages in order to avoid any problems with customs).
Moreover, the United Kingdom and the European Union have agreed a Trade and Cooperation Agreement (TCA). This free trade partnership aims to provide zero tariff and zero quotas for all goods. However, goods imported into the UK need to meet the preferential rules of origin to benefit from free trading under the TCA. The rules of origin determine the national source of goods. The aim is to only allow EU or UK originated goods to benefit from preferential tariffs and prevent those goods from third countries (not the EU member states or the UK) from benefiting as they may need to pay standard import tariffs.
Goods can be considered "originating" in two ways:
They are "wholly obtained" (goods where obtained/produced in one country, e.g. livestock, minerals, etc.)
They have been substantially transformed in line with relevant product-specific rule (based on their HS Code). To decide if goods are sufficiently transformed, there are 3 rules – the 'value added' rule, the change of tariff classification, and manufacture from certain products or through specific processes.
If you are importing into the UK and want to benefit from preferential tariffs, you must provide a statement of origin as proof. This statement of origin can be a text included in the commercial invoice which describes the goods.
At Outvio, we aim to automate the whole shipping process in order to save you time. For this reason, we have automated the invoice generation process to ensure that you obtain all the necessary documents required by custom authorities for international shipments without the need for additional work 🎉
1. Forms
There are two customs declaration forms that you may need to keep in mind when shipping outside the EU as they need to be attached to the package: CN22 and CN23.
Both of these forms are required if you are sending a package with couriers such as DHL, Fedex and UPS, but do not worry, these forms are usually filled by couriers themselves or they can be accessed online (if needed)😊. The difference is between CN22 and CN23 is:
The CN22 form is required if the packages weigh up to 2 kilograms with a value under €425.
The CN23 form is required if the packages weigh from 2 kilograms up to 20 kilograms with a value of greater than €425. This form is more detailed in comparison to the CN22. Along with this form, you are required to attach a CP71 form that serves as an 'address card'.
2. Prohibited or restricted Items
Many countries usually set restrictions to certain goods depending on the location from where the item was sent. The United Kingdom is not exempt from this!
Before shipping any products to the United Kingdom, you must make sure that any of your items do not appear within the list of prohibited/restricted goods, otherwise they will be seized by custom authorities.
You can contact British authorities to find out more information about possible additional taxes or permissions you may need to send goods to the UK.
3. HS Code
When completing the customs declaration for an international shipment, it is crucial that you include the tariff code (HS Code) of your items. The 'harmonised system' code consists of 6-10 digits and its system aims to classify goods in order to allow customs authorities to apply duties, taxes and regulations to international products and identify the type of goods that are shipped. You can use the European Customs website to find the HS code for your goods.
Otherwise, you could choose an easier, effortless route and automate this with us… how? Well, in Outvio, you can add the HS number to your product listing inside your CMS (Shopify, PrestaShop, WooCommerce...) and then, we will import it automatically. If not, we will notify you that the HS code is missing before printing the shipping label and then, you can easily add it using the selector.
Additionally, in the commercial invoice, you must include the value of your goods in order to prevent any delay or possible block from customs authorities of your products. Keep in mind that this value can never be zero.
4. Changes to VAT
After the transition period, goods imported into the United Kingdom will face new tax regulations based on their value. From that point onwards, import VAT and customs duties will need to be accounted for and paid via VAT return. This applies to all VAT registered importers who want import goods into the UK.
Additionally, merchants will need to keep in mind the procedures of  consignments of value of goods:
For those orders up to £135, the seller charges UK consumer 20% UK VAT at point-of-sale. Big online marketplaces like Amazon, eBay and Etsy already add VAT to items under £135 bound for the UK. Sellers needs to be VAT registered and own a UK VAT number as they will need to account to HMRC all the VAT collected at point-of-sale on a quarterly basis.
For those orders above £135, depending on the type of good, its origin and value, the UK consumer will have to pay VAT (20%), plus customs duty (range between 0-25%) or excise duty. This is paid by the UK consumer to the courier before the package is handed to them.
To remit VAT to the UK, you need to create an account in HMRC and apply for a UK VAT number for your business so you can start exporting to customers in Britain and Northern Ireland.
In the customs declaration, businesses will be required to include their GB EORI number and their VAT registration number if needed.
5. EORI  Number
EORI (Economic Operator Registration Identification) is an identification number for businesses moving goods into/out the European Union. With the UK leaving the EU, both parties agreed that in order to reduce taxes costs and customs duty charges, businesses will need to obtain a 'special EORI' – the GB EORI – along with their EU EORI if they wish to move goods into England, Wales or Scotland. You can apply for a GB EORI number with HM Revenue and Customs.
In order to prevent any delays with your shipment or additional charges, you must contact the British Customs Authorities for more information.
Shipping to Ireland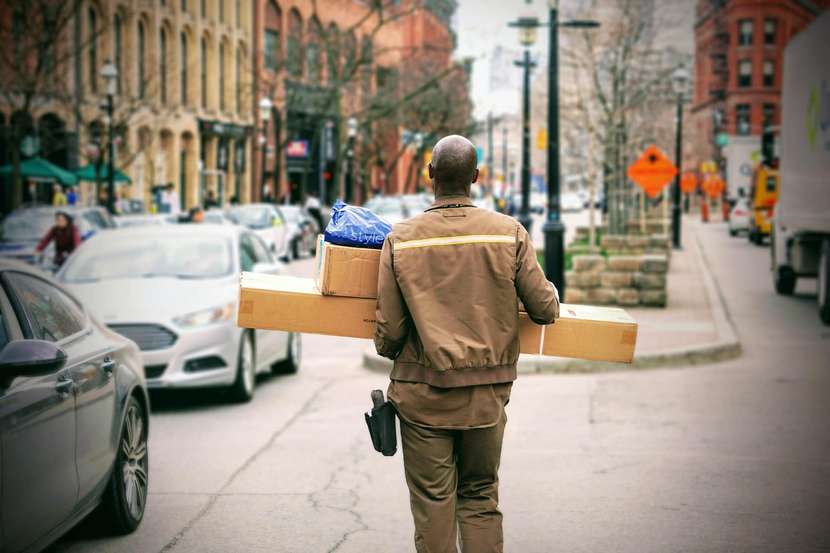 So now we know everything that businesses need to know to ship to the UK. However, you may have doubts on how Brexit will affect Ireland from a shipping perspective… well let me clear that out for you! Ireland is divided in two regions, Northern Ireland and the Republic of Ireland.
Northern Ireland is part of the United Kingdom, implying that whatever agreement the UK makes, it will also apply to Northern Ireland. Therefore, they have left the European Union and merchants wishing to import or export goods to Northern Ireland will have to comply with UK regulations.
The Republic of Ireland (or just Ireland), on the other hand, is part of the EU. Although Ireland is not in the Schengen Area, it has the same status as any other country in the European Union. This signifies that the Brexit agreement does not impact the trading activities between businesses inside the European Union.
Hopefully now you can put your mind at ease and start shipping without issues! Click HERE for the EU-UK prepare-for-shipping guide published by the British Government.