Inside this article
Good customer service and customer support software are valued more and more by eCommerce businesses and managers around the world. Speed and efficiency are the main factors assessed by customers when it comes to the way an eCommerce business handles queries and claims —and the reason they stick to that particular online store.
Start using these customer service software solutions and design a purchasing experience with customer satisfaction in mind from day 1.
What is customer service software?
Customer service software refers to all tools and platforms that can be used by businesses to improve the customer experience. That doesn't necessarily mean that these software systems are directly used to communicate with customers. They can also be used as part of an internal customer support strategy, such as to facilitate communication between employees or departments.
Some of the following customer service software solutions can be used to directly impact the customer while others will simply help your online store manage queries and claims and speed up the resolution processes.
18 customer service software solutions for eCommerce businesses
1. Asana
Asana helps organize teams within a business. This software system allows you to have an overview of the company, set and track goals and eCommerce KPIs, control product launches, measure the success of marketing campaigns, and more.
Price: available from €24.99/ month and user
2. Atlassian
Jira, Confluence, Bitbucket and Trello are some of the customer support platforms that belong to Atlassian, a company dedicated to streamlining and organizing teams to meet business goals more efficiently.
You can use Atlassian's tools to streamline internal and external communications between the brand and its customers or employees within the same organization.
Price: from $75/month
3. SurveyMonkey
SurveyMonkey is a tool for the creation, delivery and analysis of surveys.
You can use this platform to create surveys that will provide you with a vision of customers' opinions about your online store and products. Later on, you'll be able to publish these reviews in your online store and social networks to boost your repurchase rate and promote customer loyalty and retention.
Price: available from €30/month
4. Slack
Slack is a customer service tool for internal use, as it seeks to facilitate business communication.
You can use Slack and connect it to other tools to create a single point of communication between employees.
Price: available from €6.25/month per user
5. Flock
Flock is a tool that can be used as an internal customer service platform. Its main purpose is to make communication between employees faster and more efficient.
Flock is supposed to increase productivity by about 30%, thanks to its features and the way it integrates with other tools. This means fewer meetings will need to take place and fewer emails need to be sent.
Price: from $4.50/month per user
6. Userlike
Userlike is a customer service platform that connects multiple channels, such as your website, social networks and messaging platforms.
You can use Userlike to chat with your customers through WhatsApp, Facebook Messenger, Threema, SMS or Telegram.
Price: available from €90/month
7. Livechat
Livechat is a customer service software system that offers support in real-time through mobile and desktop versions. Livechat helps you create a stronger bond with your buyers and potential customers.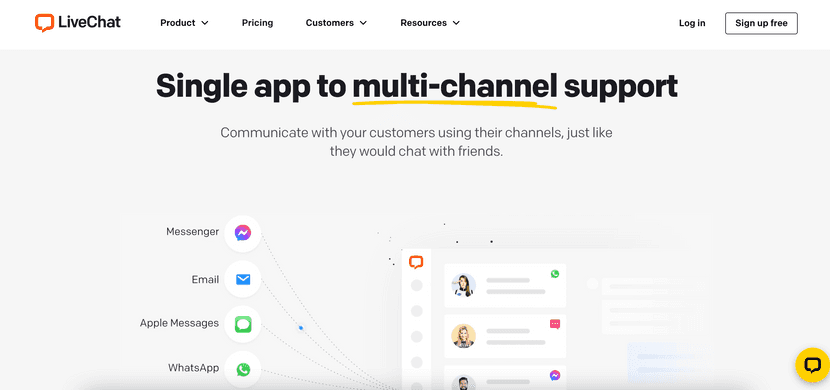 Identifying leads and interacting with potential buyers to promote sales is easier with Livechat.
Price: available from $16/month per agent
8. Froged
Froged is a company that aims to improve the onboarding process while promoting customer retention and extending the lifetime value of customers.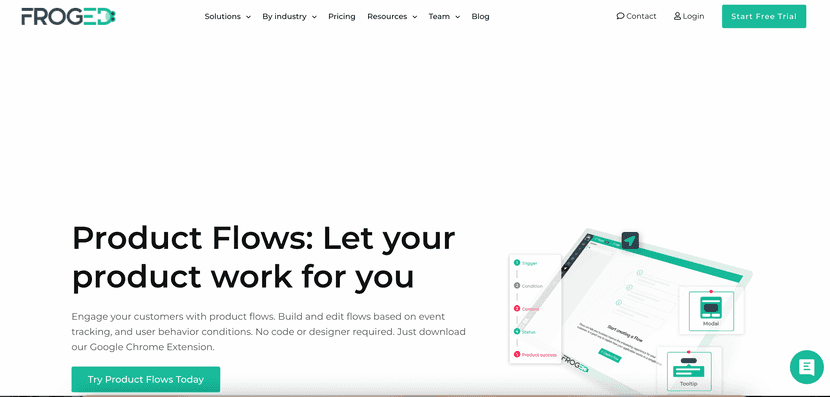 This support tool also allows online stores to create personalized email campaigns, build an integrated knowledge base, and chat and send messages automatically.
Price: available from €66/month
9. ClickDesk
ClickDesk is a support tool with live chat, helpdesk, voice, and video capabilities for websites.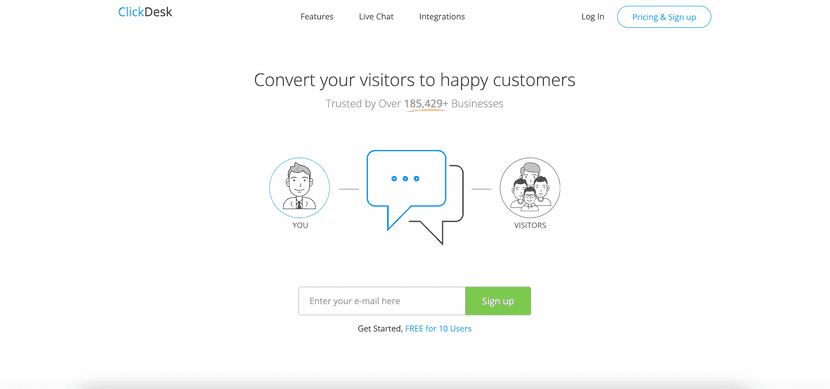 This platform helps improve customer service and sales thanks to faster replies to customers, an optimized system for tracking and managing support tickets and many other features that will make the experience for visitors more enjoyable and satisfying.
Price: available from $14.99/month
10. iAdvize
iAdvize is a customer support platform used to connect companies with both existing and potential customers and help them get expert advice for any problems and questions they may have.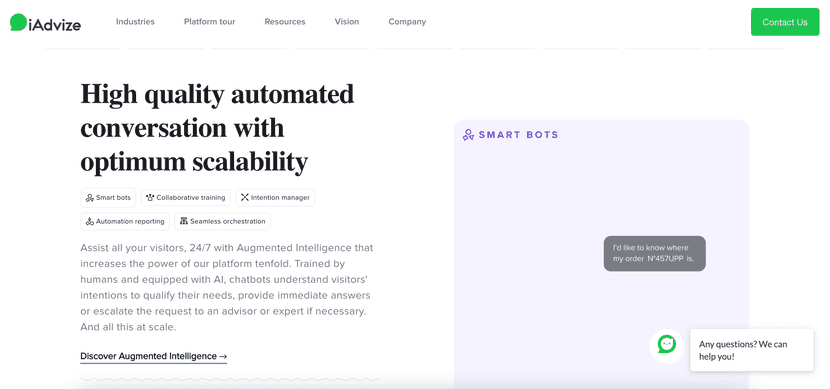 iAdvize will take care of dealing with your customers 24/7 and helps you identify users with the highest potential value.
This support tool will connect the user with a chatbot, a customer service agent or an expert lawyer.
There's no pricing information available.
11. Infobip
Infobip is a platform that integrates different messaging channels and functionalities to accelerate the growth of a company and improve the customer experience, quickly and safely.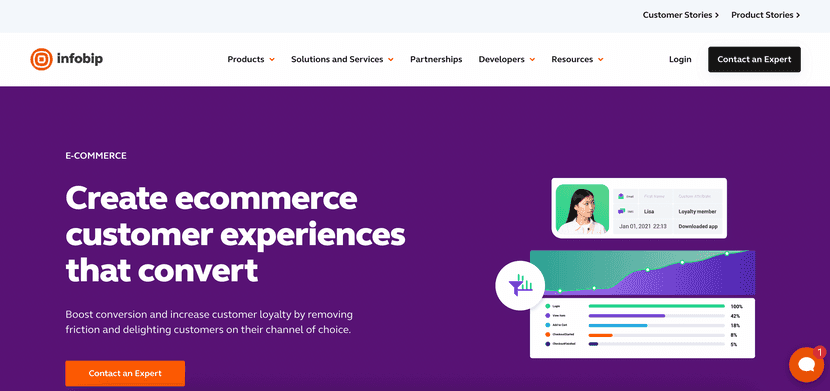 There's no pricing information available.
12. Chatra
Chatra is a support tool that facilitates live conversations with your customers.
Chatra's goal is to help online stores manage questions and solve problems to increase online sales and conversions.
Price: available from €17/month per user
13. Livebeep
Livebeep helps you connect your online store with all of your customers via a single platform so that you can implement an omnichannel communication strategy.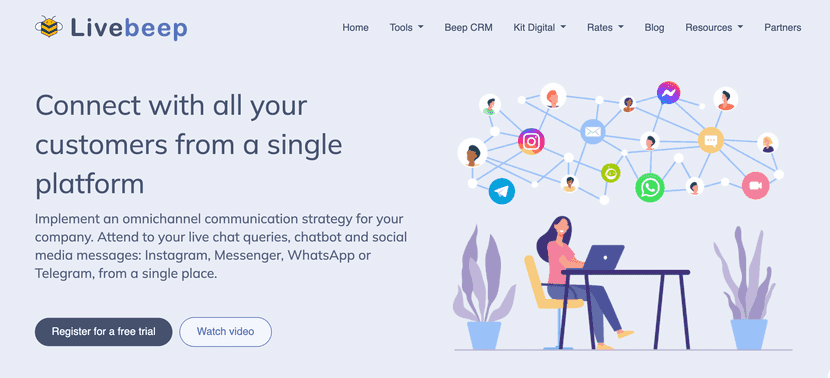 Serve your customers through a live chat in your online store, Instagram, Facebook Messenger, WhatsApp or Telegram.
Price: available from €39/month
14. Uservoice
UserVoice is a platform for managing product reviews.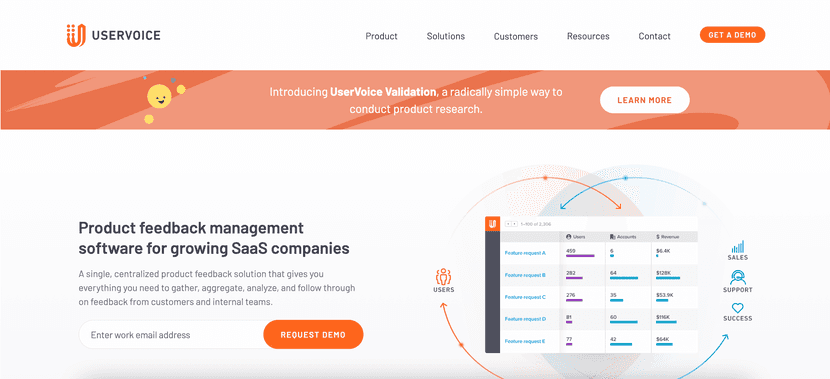 With UserVoice, you can make better decisions about your products based on objective and updated data.
UserVoice includes features to collect reviews, manage and moderate reviews, issue support tickets, create a knowledge base and obtain advanced reports.
Price: available from $799/month
15. Oct8ne
Oct8ne is a support tool that allows you to chat with customers and see what they have in their cart to better answer questions, learn about their interests and personalize the shopping experience.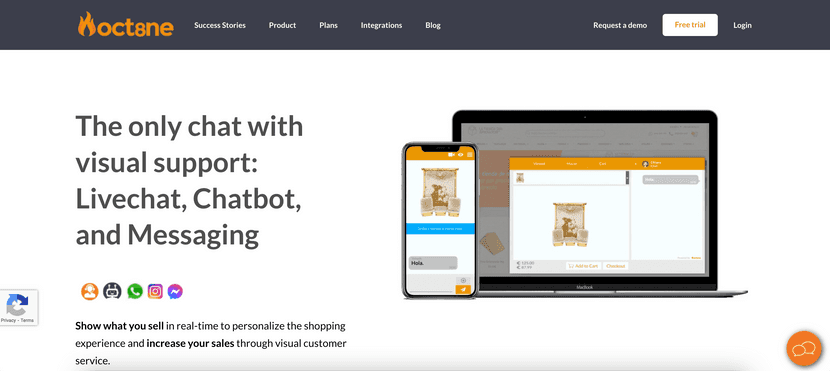 The customer will be able to share images and videos, and the online store will be able to create up-selling and cross-selling strategies thanks to the data provided by the platform regarding the interests of each client.
Price: available from $49/month
16. Olark
Olark is a platform used to chat with customers through your online store. It can help boost sales, increase conversions and offer quality customer service.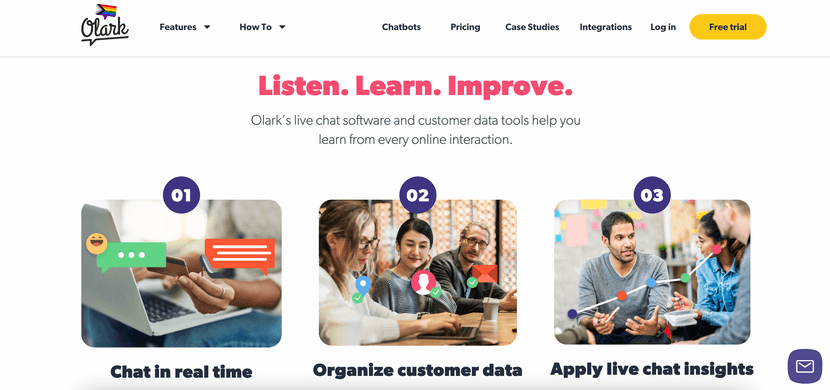 Real-time information such as login name, location, past purchases and cart content will help you create more profitable communications with your customers, in terms of finances and in terms of branding.
Price: available from $29/month
17. Whisbi
Whisbi combines support tools such as video calls, chat, voice messages and chatbots to transform the way online stores manage marketing and sales.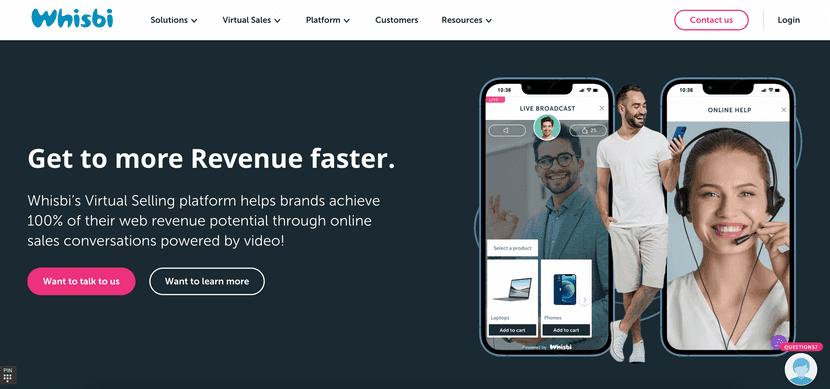 This support platform shortens sales cycles for large companies focused on continuing to grow without neglecting their top priority: the customer.
Pricing information is not available.
18. Outvio
Outvio helps you optimize and automate dozens of post-checkout actions from shipping and tracking orders to shipping-issue management, returns and communications with customers.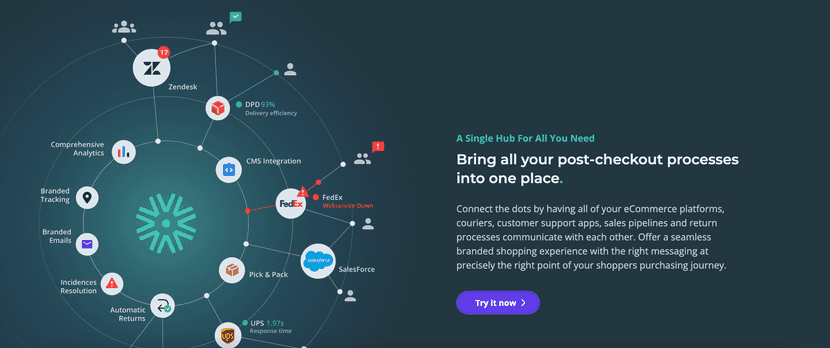 Use Outvio's marketing tools to brand the post-checkout purchasing experience for your customers. Create your own tracking page with complete information about the order, its location and status, and your branding elements.
Send personalized emails automatically and for free to all your customers, and proactively contact them to keep them up to date on the status and location of their order.
Automate your returns with a portal that enables your customers to be autonomous in the return process while simultaneously reducing the workload for your customer support team.
Brand your post-checkout operations with Outvio to boost the repurchase rate and build a solid audience of buyers. Find out how.
Pricing. Basic customer communication functionalities start from €29/month (Launch plan). 
Conclusion
Offering quality customer service is an essential factor for the success of any eCommerce business, regardless of its sales volume or the length of time it's been operating.
Simply having a good product won't retain customers. The process of building a loyal community starts right after the sale. Start using marketing tools alongside the support tools in the list above that best fit your business model to create the perfect customer experience.